13th Cavalry Regiment
Nickname: Seymour Light Cavalry
Formed by consolidation of the Dames light cavalry, the Horatio Seymour cavalry and the Tompkins cavalry, June 20, 1863.
Consolidated with the 16th regiment of cavalry and designated 3rd provisional regiment of cavalry: August 17, 1865
The following is taken from New York in the War of the Rebellion, 3rd ed. Frederick Phisterer. Albany: J. B. Lyon Company, 1912.
October 9, 1862, Maj. Henry E. Davies Jr., 2d Cavalry, received authority to recruit a regiment of cavalry and was appointed Colonel thereof; November 12, 1862, Lieut.-Col. Nathaniel Coles received orders to recruit the regiment, the Davies Light Cavalry, until Colonel Davies would report from the field. January 16, 1863, Col. David Webb, succeeded, on his death, by Col. Alfred W. Taylor, and he by Col. Henry S. Gansevoort, was authorized to recruit the Horatio Seymour Cavalry. January 28, 1863, Col. G. W. B. Tompkins received authority to recruit the Tompkins Cavalry. These . organizations were, June 20, 1863, consolidated, and the I3th Regiment of Cavalry formed of them, with H. S. Gansevoort as Lieutenant-Colonel, and N. Coles, as Major. The companies were mustered in the service of the United States for three years; at Staten Island, A February 25, B May 25, C and D June 18, E June 19, F June 20, G July 10, H August 7, and I November 23, 1863; at Riker's Island, K and L, and at Hart's Island M, in March, 1864.
They were recruited principally: A, B, C, D and E, at New York city; F at New York city, Rome and Utica; G at New York city, Potsdam, Oswegatchie, Malone, Saratoga and Albany; H, Halleck Guards, at New York city, Ogdensburgh, Malone, Water-town, Albany and Potsdam; I at Albany, Buffalo and Watertown; K, L and M, at New York city and Brooklyn.
Six companies, A, B, C, D, E and F, left the State June 23, 1863; Companies G and H, August 14, 1863; the others in winter, 1863, and spring, 1864; the regiment served in the Pennsylvania Campaign in June and July, 1863 (six companies), and after that in the 22d Corps, Department and Defenses of Washington, D. C.
August 17, 1865, the regiment, commanded by Col. Henry S. Gansevoort, was consolidated at Washington with the 16th N. Y. Volunteer Cavalry, the consolidated force receiving the designation, 3d Provisional Regiment, N. Y. Volunteer Cavalry; the companies of the I3th becoming parts of the companies of the new organizations, as follows: A of G, B of M, C of H, D of D, E of L, F of A, G of B, H of F, I of E, K of K, L of C, M of I.
During its service, the regiment lost by death, killed in action, 12 enlisted men; of wounds received in action, 19 enlisted men; of disease and other causes, 2 officers, 98 enlisted men; total, 2 officers, 129 enlisted men; aggregate, 131; of whom 27 enlisted men died in the hands of the enemy.
The following is taken from The Union army: a history of military affairs in the loyal states, 1861-65 -- records of the regiments in the Union army -- cyclopedia of battles -- memoirs of commanders and soldiers, Volume II: New York, Maryland, West Virginia and Ohio. Madison, WI: Federal Pub. Co., 1908.
Thirteenth Cavalry,—Cols., Henry E. Davies. Henry S. Gansevoort; Lieut.-Cols., Henry S. Gansevoort, Nathaniel Coles; Majs., Nathaniel Coles, John Birdsall, Douglass Frazer, Charles H. Hatch, Augustus P. Green. The 13th cavalry, known also as the Seymour Light Cavalry, was formed in June, 1863, by the consolidation of several incomplete organizations, viz.: the Davies light cavalry, the Horatio Seymour cavalry, the Tompkins cavalry, the New York brigade, and the Seymour light infantry. The various companies were chiefly recruited in the counties of New York, Albany, St. Lawrence, Franklin and Erie. Cos. A, B, C, D, E, F, G, H and I were mustered into the U. S. service at Staten island from Feb. 25 to Nov. 23, 1863, for three years; K and L at Riker's island and M at Hart's island, in March, 1864. The first six companies left the state on June 23, 1863; G and H on Aug. 14, and the others during the following winter. The regiment (six companies) saw its first service during the Pennsylvania campaign in June and July, 1863, and first distinguished itself by the destruction of the enemy's pontoon bridges and train at Falling Waters. It was then assigned to the 22nd corps, and served for the remainder of its term in the defenses of Washington. Its hardest fighting occurred at Aldie, Va., where it lost 24 killed, wounded and missing; at Piedmont, losing 42 killed, wounded and missing; and at Lewinsville, where the loss was 20 killed, wounded and missing. It was consolidated with the i6th N. Y. cavalry at Washington on Aug. 17, 1865, and the consolidated force was designated the 3d provisional regiment, N. Y. volunteer cavalry (q. v.). The regiment took part in more than 30 engagements and skirmishes and sustained losses as follows: killed and died of wounds, 31 men; died of disease, accidents, in prison, etc., I officer and 98 men, a total of 130. Col. Gansevoort was brevetted major-general for gallant and meritorious service.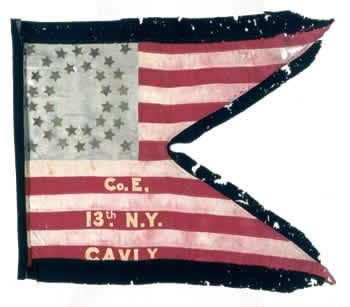 Company E, 13th Regiment Cavalry, NY Volunteers | Guidon | Civil War
Company E, 13th Regiment Cavalry, recruited principally in New York City, mustered into service for three years at Staten Island on June 19, 1863…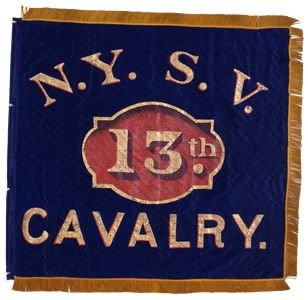 13th Regiment Cavalry, NY Volunteers | Flank Markers | Civil War
The 13th Regiment Cavalry, or "Seymour Light Cavalry," mustered into service, by companies, for three years between February 1863 and March 1864.…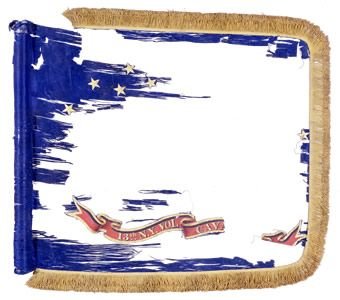 13th Regiment Cavalry, NY Volunteers | Standard | Civil War
Approximately 80% of this blue, silk standard is missing, most notably from the center. The standard originally included the Arms of United States…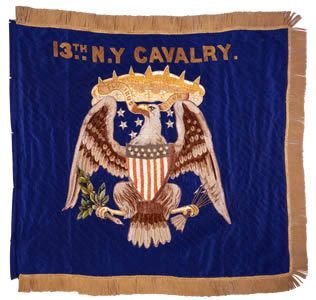 13th Regiment Cavalry, NY Volunteers | Standard | Civil War
This blue silk standard features the Arms of the United States with storm clouds embroidered in the center. The regiment's numeric designation, in tan…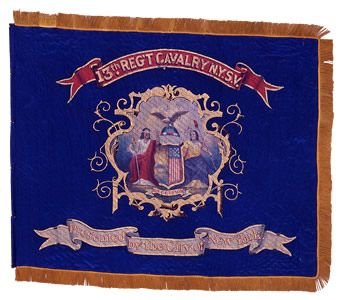 13th Regiment Cavalry, NY Volunteers | Standard | Civil War
The 13th Regiment Cavalry's standard features the Arms of the State of New York painted on the obverse and the Arms of the City of New York painted on…