13th Regiment Cavalry, NY Volunteers | Flank Markers | Civil War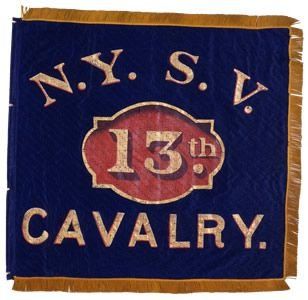 Flag dimensions: 28 1/2" hoist X 29 3/4" fly.
(2003.0189)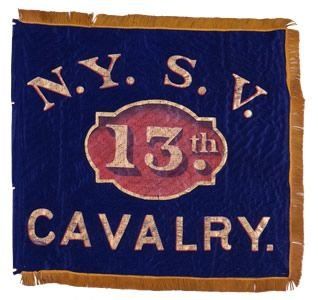 Flag dimensions: 27 3/4" hoist X 29 1/4" fly.
(2003.019)
The 13th Regiment Cavalry, or "Seymour Light Cavalry," mustered into service, by companies, for three years between February 1863 and March 1864. These silk flank markers feature painted inscriptions in gold, shadowed in red, along the top and bottom. Also, each features a red painted shield in the center framed with a gold painted border. Each shield includes the regiment's numeric designation painted in gold and shadowed in crimson. "N.Y.S.V." and "CAVALRY." are in mirror image on the reverse while the numeric designation reads left to right on the reverse.