Company E, 13th Regiment Cavalry, NY Volunteers | Guidon | Civil War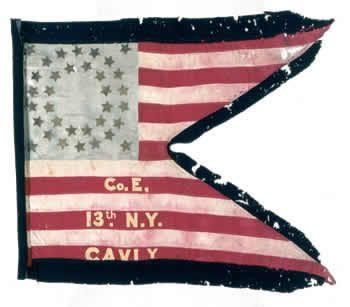 Flag dimensions: 34 1/4" hoist X 37 3/4" fly.
(2003.009)
Company E, 13th Regiment Cavalry, recruited principally in New York City, mustered into service for three years at Staten Island on June 19, 1863 under the command of Captain David T. Jackson. This silk swallowtail guidon, manufactured by J.C. McCormick of Philadelphia, conforms to the "stars and stripes" pattern prescribed in General Order No. 4, dated January 18, 1862. The flag also includes a painted inscription identifying the company and a black wool edging added to the flag by the regiment or its veterans to mourn either President Lincoln, General Grant, or their fallen comrades. The small, round holes in the edging indicate insect damage that occurred while the flag was in storage.