13th Regiment Cavalry, NY Volunteers | Standard | Civil War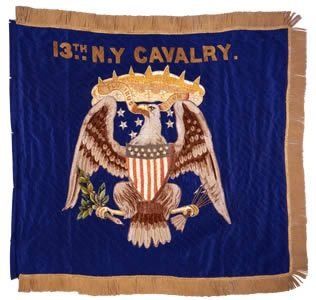 Flag dimensions: 32" hoist X 32 3/4" fly.
(2005.0143)
This blue silk standard features the Arms of the United States with storm clouds embroidered in the center. The regiment's numeric designation, in tan -colored yarns, is embroidered above the Arms. Yellow-colored, 2" long, twisted and looped, silk fringe lines the top, fly and bottom edges.