2nd Mounted Rifles Regiment
Nickname: Governor's Guard
Left the State: March 1864
Mustered out: August 10,1865
The following is taken from New York in the War of the Rebellion, 3rd ed. Frederick Phisterer. Albany: J. B. Lyon Company, 1912.
July 2, 1863, Col. John Fisk received authority to recruit a regiment of infantry; August 24, 1863, this authority was modified, making the organization to be recruited a regiment of mounted rifles. It was organized at Lockport and Buffalo, and the companies were mustered in the service of the United States for three years: at Lockport A and I October 31 and November 2, 1863, respectively; at Fort Porter, Buffalo, B, C, D, E and L January 12th, 26th, 27th, 29th and 25th, respectively; F and G February 5, and H, K and M February 4, 6 and 13, 1864, respectively.
The companies were recruited principally: A at Lockport, Buffalo, Batavia and Ridge-way; B at Caneadea, Centerville, Farmersville, Eagle, Gainesville, Hume, Rushford, Pike and Lockport; C at Lockport, Niagara, Royalton, Attica, Cambria, Tonawanda, Buffalo, Java and Warsaw; D at Buffalo, Collins, Tonawanda and Clarence; E at Buffalo, Lockport, Carlton, Wilson, Cambria and Newfane; F at Lockport, Arcadia, Lyons, Buffalo, Grand Island and Palmyra; G at Thompson, Monticello, Bethel, Callicoon, Liberty and Fallsburgh; H at Buffalo, Amherst, Colden, Grand Island, New Hudson and Tonawanda; I at Lockport, Buffalo and Lewiston; K at Buffalo, Grand Island, Orangeville, Amherst, Tonawanda and Warsaw; L at Barre, Carlton, Gaines, Java, Kendall, Ridgeway and Shelby; and M at Buffalo, Batavia, Danube, Attica, Little Falls, Mannheim, Middlefield, Jordan and Prattsburgh.
The regiment left the State in March, 1864, and served as infantry at and near Washington, D. C., in 22d Corps; in the Provisional Brigade, 1st Division, 9th Corps, from May 15, 1864; in 1st Brigade, 2d Division, 9th Corps, Army of Potomac, from June 11, 1864; in the 2d Brigade, 2d Division, 9th Corps, from September, 1864; mounted in the 3d Brigade, 2d Division, Cavalry, Army of Potomac, from November 16, 1864; in Department of Virginia, from May, 1865.
Commanded by Lieut.-Col. Joseph H. Wood, the regiment was honorably discharged and mustered out, August 10, 1865, at Petersburg, Va., having during its service lost by death, killed in action, 7 officers, 67 enlisted men; of wounds received in action, 2 officers, 29 enlisted men; of disease and other causes, 1 officer, 112 enlisted men; total, 10 officers, 208 enlisted men; aggregate, 218; of whom 20 enlisted men died in the hands of the enemy.
The following is taken from The Union army: a history of military affairs in the loyal states, 1861-65 -- records of the regiments in the Union army -- cyclopedia of battles -- memoirs of commanders and soldiers, Volume II: New York, Maryland, West Virginia and Ohio. Madison, WI: Federal Pub. Co., 1908.
Second Mounted Rifles.—Cols., John Fisk, Louis Siebert; Lieut.- Cols., Jasper N. Raymond, Joseph H. Wood; Majs., William H. Mapes, John D. Numan, Joseph M. Rushmore, John H. Fralick, Henry Runyan, Henry G. Stebbins, Nahum Ward Cady, James M. Watson, Henry F. Pierce. This regiment, known as the Governor's Guard, was organized at Lockport and Buffalo in the summer and early fall of 1862. Col. Fisk had been authorized to recruit a regiment of infantry, but this authority was modified a month later, making the organization a regiment of mounted rifles. The companies of which it was composed were principally raised in the counties of Erie, Niagara, Wyoming, Orleans, Allegany and Wayne, and were mustered into the U. S. service from Oct., 1863, to Feb., 1864, for three years. The regiment left the state in March. 1864; served as infantry attached to the 22nd corps at and near Washington until May; then joined the Army of the Potomac, engaged in the Richmond campaign, where it was first assigned to the provisional brigade, ist division, and later to the ist brigade, 2nd division, 9th corps; saw its first fighting at Spottsylvania Court House; lost heavily at Cold Harbor, where its casualties amounted to 64 killed, wounded and missing; and in the assaults on the Petersburg works in June it again suffered severely, having 18 killed, 82 wounded and 2 missing. At the mine explosion it was again in action with Potter's division, and sustained a loss of 48 killed, wounded and missing. In the action at Poplar Spring Church its casualties were 76. The regiment was now mounted and served with the 3d brigade, 2nd cavalry division (Crook's), Army of the Potomac, losing 33 killed, wounded and missing at Hatcher's run and Nottoway Station. It performed its full share during the campaign leading up to Lee's surrender at Appomattox, its casualties from March 28 to April 9, 1865, amounting to 62 killed, wounded and missing. After the close of the war 202 The Union Army it served in the Department of Virginia until mustered out under the command of Lieut. -Col. Joseph H. Wood, at Petersburg on Aug. 10, 1865. Its losses by death during service were 8 officers and 97 men, killed and mortally wounded; i officer and 112 men died of disease, accidents, in prison, etc.; a total of 218.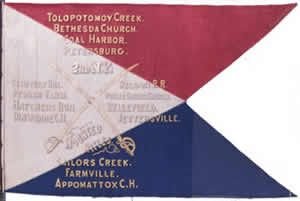 2nd Regiment Mounted Rifles, NY Volunteers | Guidon | Civil War
Organized at Lockport and Buffalo, the 2nd Mounted Rifles initially served as infantry until November 1864 when the regiment received their mounts and…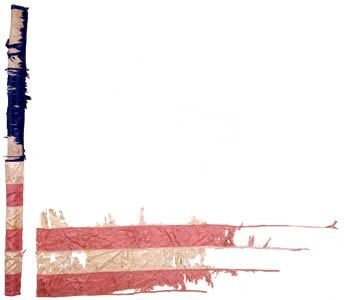 2nd Regiment Mounted Rifles, NY Volunteers | Guidon | Civil War
Organized at Lockport and Buffalo, the 2nd Mounted Rifles initially served as infantry until November 1864 when the regiment received their mounts and…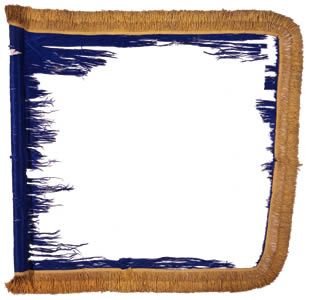 2nd Regiment Mounted Rifles | Standard | Civil War
Organized at Lockport and Buffalo, the 2nd Mounted Rifles initially served as infantry until November 1864 when the regiment received their mounts and…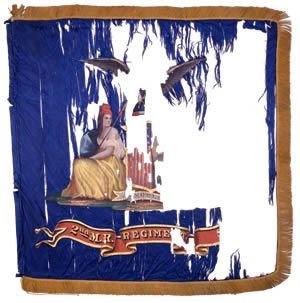 2nd Regiment Mounted Rifles, NY Volunteers | Standard | Civil war
Organized at Lockport and Buffalo, the 2nd Mounted Rifles initially served as infantry until November 1864 when the regiment received their mounts and…