2nd Regiment Mounted Rifles, NY Volunteers | Guidon | Civil War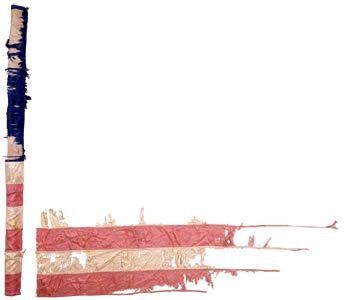 Flag dimensions: 25 3/4" hoist X 30 1/4" fly.
(2004.003)
Organized at Lockport and Buffalo, the 2nd Mounted Rifles initially served as infantry until November 1864 when the regiment received their mounts and joined the Army of the Potomac's Cavalry Corps. Approximately 90% of this silk guidon is missing. Only the staff sleeve and a portion of the lower half remain as two separate pieces. Originally the guidon, in the "stars and stripes" pattern, included painted stars in the blue canton. The guidon was deposited in the collection on October 5, 1865.