2nd Regiment Mounted Rifles | Standard | Civil War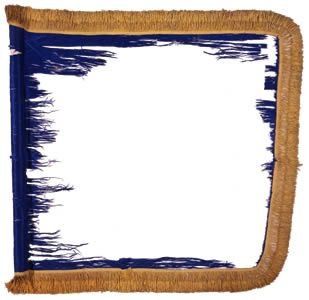 Flag dimensions: 31 1/4" hoist X 32 1/2" fly.
(2005.0141)
Organized at Lockport and Buffalo, the 2nd Mounted Rifles initially served as infantry until November 1864 when the regiment received their mounts and joined the Army of the Potomac's Cavalry Corps. The regiment carried this blue, silk standard while acting as infantry from Spotsylvania, Virginia, May 1864, through the battle of Hatcher's Run, Virginia, October 1864. Deposited into the collection on December 4, 1864, the flag includes gold colored, knotted, silk fringe. Approximately 90% of the flag is missing, mainly from the center. When compared to other flags in the collection, it is believed this flag included either the Arms of the United States or the Arms of the State of New York in the center.