14th Artillery Regiment (Heavy)
Mustered in by companies: August 29, 1863, to January 17, 1864.
Mustered out: August 26, 1865.
The following is taken from New York in the War of the Rebellion, 3rd ed. Frederick Phisterer. Albany: J. B. Lyon Company, 1912.
Colonel Elisha G. Marshall received, May 29, 1863, authority to recruit this regiment for a service of three years. It was organized at Rochester, and contained many men who had served in two years' organizations. January 13 and 22, 1864, the men enlisted by Milton R. Pierce and Jesse B. Lamb for this regiment were transferred to the 6th and 13th N. Y. Volunteer Artillery, respectively, and April 8 and 15, 1864, the surplus men recruited for the regiment were ordered to be assigned to the 6th N. Y. Volunteer Artillery. The companies were mustered in the service of the United States at Rochester, A and B August 29; C and D September I I and 12, respectively; E and F October 18 and 20, respectively; G and H December 7; I and K December 21, 1863; L January 8, 1864; and at Elmira Company M January 17, 1864.
The companies were recruited principally: A at Ogdensburg, Watertown, Antwerp, Oswegatchie, Camden and Pots dam ; B at Rochester, Niagara, Ridgeway, Barre, Buffalo, Waddington, Oswegatchie, Palmyra and Lyons; C at Utica, Malone, Rochester, Watertown, Ogdensburg, Buffalo, Albany, Oswegatchie and Rome; D at Rochester, Dansville, Corning, Horseheads, Veteran, Dix, Bath, Catharine, Odessa, Watertown and Mt. Morris; E at Ogdensburg, Watertown, Rochester, Barre, Canton, Norfolk, Potsdam, Utica, Buffalo, Camden and Russell; F at Manlius, Rochester, Lockport, Lowville, Ogdensburg, Prattsburg, Suspension Bridge, Watkins, Martinsburgh, Dansville, Corning and New Bremen; G at Rochester, Utica, Cold Spring, Dunkirk, Dansville, Great Valley, Canton, Boonville, Havana, Ogdensburg, West Turin, Buffalo, Otto and Lyons; H at Penn Yan, Lowville, Canton, Russell, Watertown, Geneseo, Gouverneur, Colton, Hermon, Stockholm, Boonville, Ogdensburg, Pots dam, Buffalo, Greig and Martinsburgh; I at LeRay, DePeyster, DeKalb, Orleans, Ogdensburg, Hermon, Clayton, Rossie, Rochester, Potsdam, Geneseo, Norfolk, Philadelphia, Turin, Oswegatchie, Macomb, Canton, Watertown and Milo; K at Albion, Antwerp, Theresa, Williamstown, Rossie, Richland, Boonville, Diana, Amboy,. Alexandria, Denmark, Gouverneur, Macomb, Leyden, Wilna, Lowville and Philadelphia; L at Rochester, Milo, Rossie, Newstead, Geneseo, LeRay, Mannheim, Watertown, Hermon, DeKalb, Penn Yan, Burkfield, Groveland, Denmark, Livonia, Watson, Jerusalem and Leicester; and M at Rochester, Watertown, Chemung, Potsdam, Adams, Utica, Pamelia, Kirkland, Fairfield, Paris, Madrid, Lewiston, Johnstown, Trenton, Camden, Deerfield, Utica, Floyd, Stockholm, Mexico, Rodman, Clayton and Ellisburgh.
Companies A, B, C, D, E and F were, October 13, 1863, ordered to duty in New York harbor; G and H were ordered to Fort Hamilton, New York harbor, December 8, 1863; Companies I and K were ordered to Fort Richmond, New York harbor, December 24, 1863, where Companies Land M joined them in January, 1864. The regiment, serving as heavy artillery and infantry, remained in New York harbor, Department of the East, until April, 1864; served in the Provisional Brigade, 9th Corps, from April 23, 1864; in the Provisional Brigade, 1st Division, 9th Corps, from May 12, 1864; in the 3d Brigade, 1st Division, 9th Corps, Army of Potomac, from June 11, 1864; in the 2d Brigade, same division and corps, from June 18, 1864; in the 3d Brigade, 1st Division, 9th Corps, Army of Potomac, from September, 1864; and in the 1st Brigade, Hardin's Division, 22d Corps, from June, 1865.
Commanded by Colonel Marshall, the regiment was honorably discharged and mustered out August 26, 1865, at Washington, D. C., having, during its service, lost by death, killed in action, 6 officers, 127 enlisted men; of wounds received in action, 82 enlisted men; of disease and other causes, 3 officers, 309 enlisted men; total, 9 officers, 518 enlisted men; aggregate, 527; of whom I officer and 86 enlisted men died in the hands of the enemy.
The following is taken from The Union army: a history of military affairs in the loyal states, 1861-65 -- records of the regiments in the Union army -- cyclopedia of battles -- memoirs of commanders and soldiers, Volume II: New York, Maryland, West Virginia and Ohio. Madison, WI: Federal Pub. Co., 1908.
Fourteenth Artillery (Heavy).—Col., Elisha G. Marshall; Lieut.- Cols., Clarence H. Corning, William H. Reynolds, George M. Randall; Majs., William H. Reynolds, Henry V. Pemberton, Job C. Hedges, George M. Randall, Joseph P. Cleary, William H. Trowbridge, Lorenzo I. Jones, David Jones, Albion Howe. This regiment was organized at Rochester, and was chiefly recruited in the counties of Monroe, Yates, St. Lawrence and Jefferson. Its ranks contained many men who had served in the two years' organizations. Although recruiting commenced in June, 1863, the organization of the regiment" was not completed until Jan., 1864, the companies being mustered into the U. S. service between Aug. 29, 1864, and Jan. 17, 1865, at Rochester, for three years. It is numbered among the three hundred fighting regiments of the war by Col. Fox, who says: "It garrisoned the forts in New York harbor until April 23, 1864, when it was ordered to the front and was assigned to the 9th corps, joining it at Warrenton, Va. On May 2, 1864, it started for the Rapidan. The regiment was in line at the Wilderness, but was only partially engaged. It was actively engaged, however, the next week at Spottsylvania (then in Stevenson's division), and two weeks later suffered heavily at Cold Harbor, where it lost 15 killed, 43 wounded and 16 missing. On June 17, 1864, the 14th distinguished itself by its brilliant and successful charge on the works at Petersburg; loss 38 killed, 152 wounded, 60 missing; total, 250. Maj. Job C. Hedges was killed in this charge while bravely leading his battalion. At the mine explosion the regiment was selected to lead the assault at the crater and was the first to plant its colors on the enemy's works, where it captured a Confederate flag. Its casualties in this action were 10 killed, 44 wounded and 78 missing; total, 132. The 14th was on duty in the trenches, losing men daily in the constant and deadly firing which prevailed there. It also occupied Fort Stedman at the time of the Confederate sortie, March 25, 1865, and when surrounded there by the enemy, the men fought their way through the opposing lines until they reached Fort Haskell, where, in company with the remainder of the regiment which was on duty there, they succeeded in holding that important position. At the Weldon railroad the regiment was in White's division and sustained a loss of 6 killed, 40 wounded and 3 missing; total, 49." The regiment took part in the following battles: Wilderness. Spottsylvania. the North Anna, Bethesda Church, Cold Harbor, first assault on Petersburg, mine explosion, Weldon railroad, Peebles' farm. Fort Stedman, and the fall of Petersburg. It was also present at Ny River, Totopotomy, Boydton road, and Hatcher's run. The total enrollment of the regiment was 2,506 officers and men; total of killed and wounded, 861; killed and mortally wounded, 226; died of disease and other causes, 301; died in Confederate prisons, 84. It was one of the nine heavy artillery regiments whose loss in killed exceeded 200; its loss of 15 killed, 43 wounded, and 61 missing, June 1, 1864, at Bethesda Church, was one of the heaviest sustained in that battle. Under command of Col. Marshall, the regiment was mustered out on Aug. 26, 1865, at Washington, D. C. The gallant Col. Marshall was brevetted major-general, from March 13. 1865.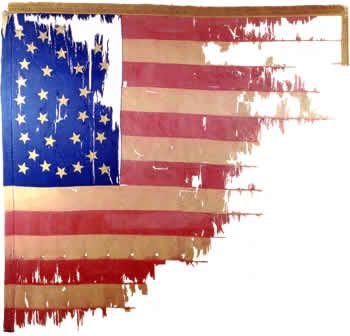 14th Regiment Artillery (Heavy), NY Volunteers | National Flag | Civil War
This silk national flag carried by the 14th Regiment Artillery, NY Volunteers features painted stars in a typical two concentric oval pattern. The…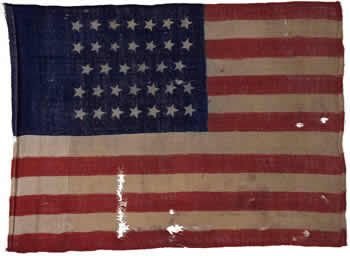 14th Regiment Artillery (Heavy), NY Volunteers | Camp Colors | Civil War
The NYS Battle Flag Collection includes two camp colors attributed to the 14th Regiment Artillery. The wool camp colors are printed in the US national…