14th Regiment Artillery (Heavy), NY Volunteers | Camp Colors | Civil War
Flag dimensions: 19" hoist X 26 1/4" fly.
(2001.0055)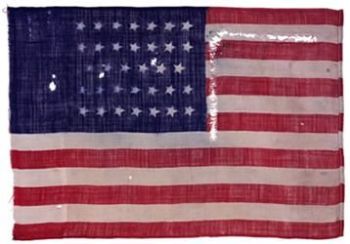 Flag dimensions: 18 1/4" hoist X 24" fly.
(2001.0056)
The NYS Battle Flag Collection includes two camp colors attributed to the 14th Regiment Artillery. The wool camp colors are printed in the US national pattern (34 stars in 7-7-6-7-7 pattern) as prescribed in General Order No. 4, Headquarters of the U.S. Army, dated 18 January 1862.