9th Infantry Regiment
Nickname: Hawkins' Zouaves; New York Zouaves; Little Zouaves; Zoo-Zoos.
Mustered in: May 4, 1861
Mustered out: May 20, 1863
The following is taken from New York in the War of the Rebellion, 3rd ed. Frederick Phisterer. Albany: J. B. Lyon Company, 1912.
This regiment, Col. Rush C. Hawkins, was organized in New York city, and there mustered in the service of the United States for two years, May 4, 1861; it was accepted by the State, and received its numerical designation, May 13, 1861. One company was formed of members of the 18th Regiment, State Militia, and Company K was equipped as an artillery company, and served as such until November 10, 1862.
The regiment was recruited principally in New York city; but some of its members were enrolled at Albany, Brooklyn, Hyde Park, Green Point, Mamaroneck, Mt. Vernon, Newburgh, Staten Island, Sing Sing and Williamsburgh; in Connecticut, New Jersey and Canada.
It left the State, June 6, 1861; served at Newport News, Va., from June 8, 1861; Companies C, G and H at Hatteras, N. C., from August 27, 1861; the regiment from September 10, 1861; in the 3d Brigade, Burnside's Expeditionary force, from January, 1862; at Roanoke, N. C, from February 3, 1862; in 4th Brigade, Hawkins' Coast Division (3d), 9th Corps, from March, 1862; in the 1st Brigade, 3d Division, 9th Corps, from July, 1862. May 6, 1863 the three years' men of the regiment, which latter had left for New York city, May 3, 1863, were assigned to the 3d Infantry, and May 20, 1863, the regiment, under Colonel Hawkins, was honorably discharged and mustered out at New York city.
In April or May, 1863, the War Department authorized Capt. R. H. Morris of this regiment to organize a battery of members of his regiment, whose term of service had not expired. It was to consist of 110 men, but failed to complete its existence; 44 of the men assigned to the proposed battery deserted, the remainder were assigned to the 3d Infantry.
During its service the regiment lost by death, killed in action, 2 officers, 53 enlisted men; of wounds received in action, 16 enlisted men; of disease and other causes, 2 officers, 27 enlisted men; total, 4 officers, 96 enlisted men; aggregate, 100; and it, or portions of it, took part in the following engagements.
The following is taken from The Union army: a history of military affairs in the loyal states, 1861-65 -- records of the regiments in the Union army -- cyclopedia of battles -- memoirs of commanders and soldiers. Madison, WI: Federal Pub. Co., 1908.
Ninth Infantry.—Col., Rush C. Hawkins; Lieut.-Cols., George F. Betts, Edgar N. Kimball; Majs., Edgar A. Kimball, Edward Jardine. The 9th, Hawkins' Zouaves, recruited mainly in New York city and with 1 company from the 18th regiment state militia, was there mustered into the U. S. service on May 4, 1861, for a two years' term. It embarked for Fortress Monroe, 800 strong on June 6; was quartered at Newport News until Aug. 27, when 3 companies were sent to Hatteras Inlet, N. C., under Gen. Butler and there joined by the remainder of the regiment on Sept. 13. With Gen. Burnside's force, the regiment arrived at Roanoke island, early in Feb., 1862, and was actively engaged in the battle there, losing 17 members. It participated in an expedition to Winston; returned to Camp on Roanoke island; was brigaded with the 89th N. Y. and 6th N. H. under Col. Hawkins; was in expeditions to Elizabeth City, and lost 75 men at South Mills. On July 10, the regiment was ordered to Norfolk, Va., with the 12th brigade, 3d division, 9th corps, camped at Newport News, until Sept. 4, when it moved to Washington, and to Frederick, Md., on the 12th. Here it became a part of the Army of the Potomac; was active at South mountain and Antietam, with a loss in the latter battle of 233 killed, wounded and missing. After camping in detachments at various points, the regiment was concentrated at Fredericksburg, participated in the battle there in December; camped at Falmouth until Feb. 1, 1863, except Co. F, which had remained as garrison at Plymouth, N. C., rejoining the regiment on Jan. 26. In February the 9th was ordered back to Suffolk, where it remained until May, the expiration of its term of service. It was mustered out at New York City, May 20, 1863, when the three years men were assigned to the 3d N. Y. infantry. The 9th numbered in all 1,380 members and lost 71 by death from wounds, and 29 by death from other causes.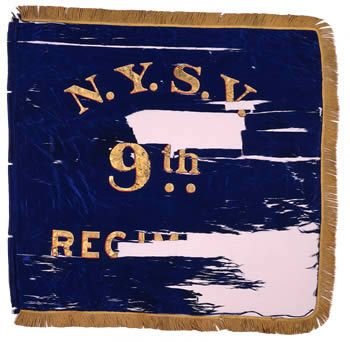 9th Regiment NY Volunteer Infantry | Flank Markers | Civil War
The NYS Battle Flag Collection includes two flank markers carried by the 9th Regiment NY Volunteer Infantry. Both flags feature painted inscriptions…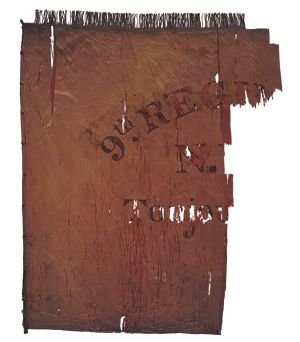 9th Regiment NY Volunteer Infantry | Regimental Color | Civil War
The 9th Regiment NY Volunteer Infantry received this silk Regimental Color on June 5, 1861, from Mrs. William Moffat outside her home on Fifth Avenue…