27th Infantry Regiment
Nickname: Union Regiment
Mustered in: May 21, 1861
Mustered out: May 31, 1863
The following is taken from New York in the War of the Rebellion, 3rd ed. Frederick Phisterer. Albany: J. B. Lyon Company, 1912.
This regiment, Col. Henry W. Slocum, was accepted by the State May 21, 1861; organized at Elmira, and there mustered in the service of the United States for two years July 9th and 10th, to date from May 21, 1861. Its three years' men were, in May, 1863, transferred to the 121st Infantry.
The companies were recruited. A at White Plains; B at Lyons, of members of the 54th State Militia, C, D and F at Binghamton; E at Rochester; G at Lima; H at Mt. Morris; I at Angelica; and K at Albion; the men were principally from the counties of Allegany, Broome, Livingston, Monroe, Ontario, Orleans and Wayne.
The regiment left the State July 10, 1861; served at Washington, D. C, from July 12, 1861; in 1st Brigade 2d Division Army of Northeastern Virginia from July 16, 1861; in Heintzelman's Brigade, Division of Potomac, from August 4, 1861; in Slocum's Brigade, Franklin's Division, Army of the Potomac, from October 15, 1861; in 2d, the same, Brigade, 1st Division, 1st Corps, Army of the Potomac, from March 13, 1862; in 2d Brigade, 1st Division, 6th Corps, Army of the Potomac, from May, 1862; and was honorably discharged and mustered out, commanded by Col. Alexander D. Adams, May 31, 1863, at Elmira.
During its service the regiment lost by death, killed in action, 1 officer, 61 enlisted men; of wounds received in action, 1 officer, 11 enlisted men; of disease and other causes, 2 officers, 72 enlisted men; total, 4 officers, 144 enlisted men; aggregate, 146; of whom 7 enlisted men died in the hands of the enemy.
The following is taken from The Union army: a history of military affairs in the loyal states, 1861-65 -- records of the regiments in the Union army -- cyclopedia of battles -- memoirs of commanders and soldiers. Madison, WI: Federal Pub. Co., 1908. volume II.
Twenty-seventh Infantry.—Cols., Henry W. Slocum, Joseph J. Bartlett, Alexander D. Adams; Lieut-Cols., Joseph J. Chambers, Alexander Duncan Adams, Joseph H. Bodine; Majs., Joseph J. Bartlett, Curtiss C. Gardiner, Joseph H. Bodine, George G. Wan-zer. The 27th, the "Union Regiment," was composed of three companies from Broome county, one company from each of the following counties: Westchester, Wayne, Monroe, Wyoming and Orleans, and two companies from Livingston. It was mustered into the U. S. service for a two years' term at Elmira on July 9 and 10, 1861, to date from May 21, and left the state for Washington on July 10. It was quartered at Franklin Square until July 17 and on that day advanced toward Manassas, assigned to the 1st brigade, 2nd division, and received its baptism of fire in the battle of Bull Run, where 130 members were killed, wounded or missing, Col, Slocum being among the wounded. The command was withdrawn to Washington after the battle and again Occupied its old camp at Franklin Square until late in September, when it was ordered to Fort Lyon and there attached to Slocum's brigade, Franklin's division. On March 13, 1862, it became a part of the 2nd brigade, 1st division, 1st corps, Army of the Potomac, and in May the division was assigned to the 6th corps. The regiment left camp for the Peninsula in April, participated in the battle of West Point, the siege of Yorktown and the Seven Days' battles, suffering heavy losses at Gaines' Mill and Malvern hill. It was more fortunate at the second Bull Run, where it was present but not closely engaged. The regiment then participated in the battles of South mountain, Antietam and Fredericksburg, established winter quarters at Belle Plain, shared the discomforts of the "Mud March," lost 19 members killed, wounded or missing in the Chancellorsville campaign in May, 1863, and soon after returned to New York. It was mustered out at Elmira May 31, 1863, having lost during its term of service 74 members by death from wounds and 74 by accident, im-prisonment or disease.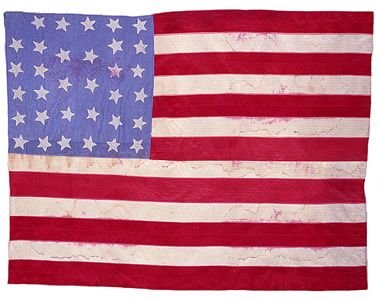 Company H, 27th Regiment NY Volunteer Infantry | National Color | Civil War
On May 16, 1861, 14 "heroic sisters and sacrificing mothers" from Mount Morris, Livingston County, presented the national color seen here to Company…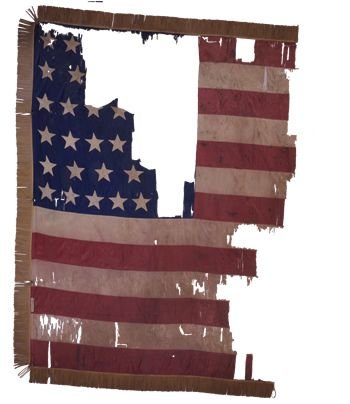 27th Regiment NY Volunteer Infantry | National Color | Civil War
In April 1861, one hundred men left Angelica, Allegany County, for Elmira, New York, to eventually muster into service as Company I, 27th New York…