Company H, 27th Regiment NY Volunteer Infantry | National Color | Civil War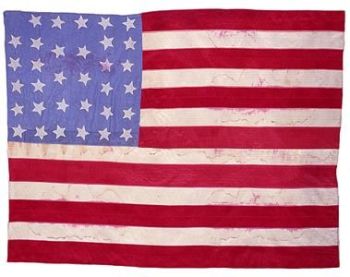 Flag dimensions: 55 1/2" hoist X 73 3/4" fly.
(2007.0046)
On May 16, 1861, 14 "heroic sisters and sacrificing mothers" from Mount Morris, Livingston County, presented the national color seen here to Company H, 27th New York Volunteer Infantry. The unique, homemade flag includes 33 white, silk stars in the canton, each appliquéd by hand to both sides. The company carried the flag in a dozen battles over two years and in May 1863 returned the flag to the Mount Morris ladies. In January 1864 the ladies transferred the cherish banner to state authorities. Lockwood Doty, from the state's Bureau of Military Statistics, accepted the flag and assured the ladies that, "It is a precious memorial, and shall be preserved with faithful care."