124th Infantry Regiment
Nickname: American Guard; Orange Blossoms
Mustered in: September 5, 1862
Mustered out: : June 3, 1865
The following is taken from New York in the War of the Rebellion, 3rd ed. Frederick Phisterer. Albany: J. B. Lyon Company, 1912.
Colonel A. Van Horne Ellis received authority, July 11, 1862, to recruit this regiment; it was organized at Goshen, and there mustered in the service of the United States for three years September 5, 1862. Part of the 71st Regiment of the National Guard formed its nucleus. September 1, 1864, Mr. Charles Gale of Mooers, Clinton county, received authority to recruit a company, the Mooers Company, which later was assigned to this regiment and became part of its company E. February 28, 1865, a number of men of the 1st U. S. Sharpshooters were transferred to this regiment. June 2, 1865, the men not to be mustered out with the regiment were transferred to the 93d Infantry.
The companies were recruited principally: A at Newburgh, Cornwall, Chester and Goshen; B-Goshen Company-at Goshen, Warwick, Florida and Newburgh; C-Cornwall Company- at Goshen, Cornwall, Newburgh, Monroe and New Windsor; D at Warwick and Goshen; E at Goshen, Crawford, Otisville, Wallkill, Newburgh, Bullville, New Windsor, Mt. Hope and Port Jervis; F at Port Jervis and Deer Park; G at Washingtonvil1e, Blooming Grove, New Windsor, Monroe, Newburgh, Craigsville and Chester; H at Montgomery, Walden and Goshen; I at Newburgh and Windsor, and K at Wallkill, Goshen, Middletown and Newburgh.
The regiment left the State September 6, 1862; it served in Piatt's Brigade, Whipple's Division, from September, 1862; in 1st Brigade, 3d Division, 3d Corps, from October, 1862; in 2d Brigade, 1st Division, 3d Corps, from June, 1863; in the 1st Brigade, 3d Division, 2d Corps, from March, 1864; and it was honorably discharged and mustered out, under Col. Charles H. Weygant, June 3, 1865, near Washington, D. C.
During its service the regiment lost by death, killed in action, 9 officers, 93 enlisted men; of wounds received in action, 2 officers, 45 enlisted men; of disease and other causes 1 officer, 94 enlisted men; total, 12 officers, 232 enlisted men; aggregate, 244; of whom 11 enlisted men died in the hands of the enemy.
The following is taken from The Union army: a history of military affairs in the loyal states, 1861-65 -- records of the regiments in the Union army -- cyclopedia of battles -- memoirs of commanders and soldiers. Madison, WI: Federal Pub. Co., 1908. volume II.
One Hundred and Twenty-fourth Infantry.—Cols., A. Van Horn Ellis, Francis M. Cummins, Charles H. Weygant; Lieut.-Cols., Francis M. Cummins, Charles H. Weygant, Henry S. Murray; Majs., James Cromwell, Charles H. Weygant, Henry S. Murray, James W. Benedict. This regiment, known as the "Orange Blossoms," was recruited in the county of Orange, organized at Goshen, and there mustered into the U, S. service Sept. 5, 1862, for three years. A part of the 71st regiment national guard, on their return from their second three months' service in Sept., 1862, formed the nucleus of the 124th. It left the state on Sept. 6, 1862, 930 strong; served for several weeks in Virginia; then joined the Army of the Potomac at Harper's Ferry; was attached to the 1st brigade, Whip-pie's (3d) division, 3d corps, in Nov. 1862; joined Burnside's army on its way to Fredericksburg and arrived at Falmouth Nov. 24. The corps was only lightly engaged at Fredericksburg and the loss of the 124th was small. It was hotly engaged at Chancellorsville, losing 28 killed, 161 wounded and 15 missing—a total of 204 out of 550 engaged. The heroic efforts of Col. Ellis during the battle to redeem the fortunes of the day evoked general commendation. In the 2nd brigade, Birney's (1st) division, 3d corps, it marched on the field at Gettysburg with 290 officers and men, of whom 28 were killed, 57 wounded and 5 reported missing, both Col. Ellis and Maj. Cromwell being killed while bravely cheering on their men. A beautiful monument has been erected by the regiment at Gettysburg, surmounted by a life size marble statue of their heroic colonel. During the pursuit of Lee after the battle, the regiment was engaged at Jones' cross-roads and Wapping heights. In the subsequent campaigns in Virginia it was under fire at Auburn and Kel-ly's ford, suffered a loss of 16 during the Mine Run campaign, and then went into winter quarters at Brandy Station. In April, 1864, the 3d corps was discontinued and Birney's division became the 3d division of the 2nd corps, but the men were allowed to retain the beloved diamond shaped badge on their caps and the piece of orange ribbon on their coats. Gen. Ward was still in command of the brigade. The regiment lost 58 killed, wounded and missing at the Wilderness, and 61 at Spottsylvania, where the regiment was in the front line during the celebrated charge of Gen. Hooker, both Col. Cummins and Lieut.-Col. Weygant being among the wounded. Continuous hard fighting followed at the North Anna river, Toto-potomy, Cold Harbor, Petersburg and the Weldon railroad. In July, 1864, Gen. Mott succeeded to the command of the division, and Gen. DeTrobriand to the command of Ward's old brigade. During the remainder of the year, while before Petersburg, it was engaged at Deep Bottom, Strawberry Plains, Poplar Spring Church, Boydton plank road, the Hicksford raid, and early in 1865 it was active at Hatcher's run, Fort Stedman and the final assault on Petersburg. It then entered on the Appomattox campaign, being engaged at White Oak ridge, Deatonsville road, Farmville and Appomattox Station. In reporting the action of March 25, near Wat-kins' house, Lt.-Col. Weygant, commanding the regiment, says that his men charged in gallant style a force of the enemy composed of the 42nd, 59th and 60th Ala. regiments, "capturing the battle flag of the 59th Alabama, 6 officers and 159 men, about 20 of whom were wounded, including Lieut.-Col. Troy of the 60th Ala. The enemy being completely dispersed I returned to my former position, leaving between 20 and 30 of their dead upon the field. At 11:30 p. m. I received orders to withdraw and return to camp, which I did, bringing with me about 75 stands of arms. All this, I am happy to say, was accomplished without the loss of a man, either in killed, wounded or missing." The regiment was mustered out, under Col. Weygant, June 3, 1865, near Washington, D. C. The total enrollment during service was 1,320, of whom 11 officers and 137 men, or 11.2 per cent, were killed and mortally wounded; 1 officer and 94 men died of disease and other causes; 11 men died in Confederate prisons; 516 officers and men were killed and wounded. Private Archibald Freeman and Corp. George W. Tomkins were awarded medals of honor by Congress for the capture of battle flags, at Spottsylvania and near Watkins' house, respectively.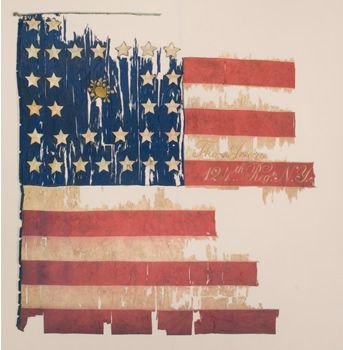 124th Regiment NY Volunteer Infantry | National Color | Civil War
The 124th New York Volunteers organized in Goshen, New York, in July and August 1862 with recruits from throughout Orange County. Initially known as…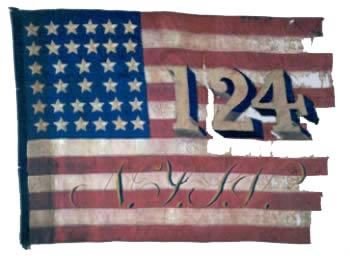 124th Regiment NY Volunteer Infantry | General Guide Flags | Civil War
Silk general guide flags in a US National pattern with 34 embroidered stars, block numbers and script state affiliation. Known as the "Orange…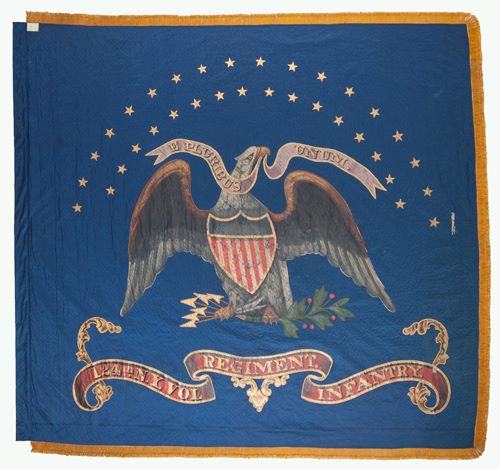 124th Regiment NY Volunteer Infantry | Regimental Color | Civil War
This blue silk regimental color carried by the 124th New York Volunteers includes 34 stars and the Arms of the United States painted on both sides. On…