124th Regiment NY Volunteer Infantry | Regimental Color | Civil War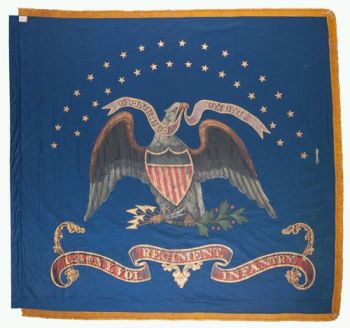 Flag dimensions: 76" hoist X 79 1/2" fly.
(2019.0156)
This blue silk regimental color carried by the 124th New York Volunteers includes 34 stars and the Arms of the United States painted on both sides. On the reverse, the Arms appear in mirror image. The flag received a netting treatment in 1962. The netting treatment included removing the fringe, machine stitching the flag between two layers of nylon net, and then reattaching the fringe. Although the work followed common practice at the time, the netting actually damaged the fabric and accelerated the flag's deterioration. The 124th New York Volunteers organized in Goshen, New York, in July and August 1862 with recruits from throughout Orange County. Initially known as the "American Guard," the regiment also received the name "Orange Blossoms" from Colonel Augustus Van Horne Ellis. The 124th New York Volunteers deposited this flag into the collection on July 3, 1865.