124th Regiment NY Volunteer Infantry | National Color | Civil War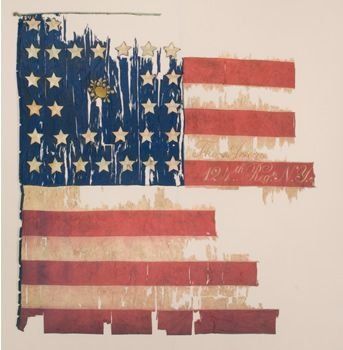 Flag dimensions: 71 1/2" hoist X 68" fly.
(2013.0048)
The 124th New York Volunteers organized in Goshen, New York, in July and August 1862 with recruits from throughout Orange County. Initially known as the "American Guard," the regiment also received the name "Orange Blossoms" from Colonel Augustus Van Horne Ellis. The ladies of Orange County, the "Daughters of Orange," gave the regiment a national color on August 26, 1862. This national color became "bullet-pierced and powder blackened" from battles at Chancellorsville, Virginia, in May 1863, and Gettysburg, Pennsylvania, in July 1863. When the "Daughters of Orange" discovered that the national color had become so damaged, they raised funds from county residents and obtained a new national color, the flag seen here. The regiment received this new national color in January 1864 while in winter quarters in Virginia. In a note read before the regiment, the Daughters wrote, "You can hardly be expected to know how large a place you have in our hearts, how sincere our regard and sympathy . . .". This flag accompanied the regiment throughout 1864 and 1865, including during the decisive campaigns in Virginia, the Overland Campaign, May 4–June 12, 1864, and the Appomattox Campaign, March 29–April 9, 1865. Only 30 embroidered stars remain on this flag from most likely a 35-star pattern. The flag has the added element of an embroidered orange blossom in the center of the canton, the unit's original nickname, "American Guard," embroidered on the center white stripe, and the unit's designation embroidered on the center red stripe. The flag's original top two stripes are missing completely, and the flag has losses to the embroidered inscriptions and along the fly edge.