102nd New York Infantry Regiment's Monument at Gettysburg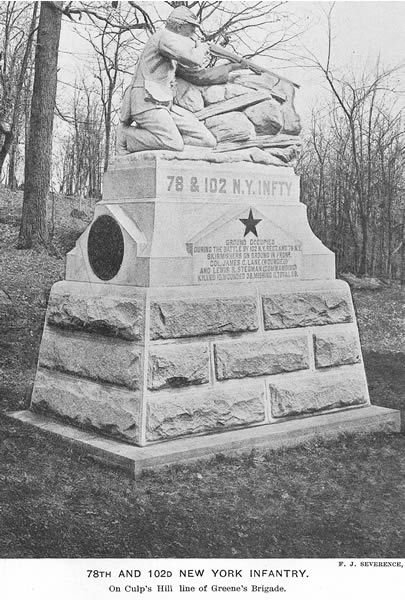 Taken from Final Report on the Battlefield of Gettysburg (New York at Gettysburg) by the New York Monuments Commission for the Battlefields of Gettysburg and Chattanooga. Albany, NY: J.B. Lyon Company, 1902.
INSCRIPTIONS
Front - 78 & 102 N. Y. INFTY JULY. 2 & 3, 1863. 3D BRIG. (GREENE), 2D DIV. (GEARY), 12TH CORPS (SLOCUM).
Reverse - 78 & 102 N. Y. INFTY. GROUND OCCUPIED DURING THE BATTLE BY 102 N. Y. REGT. AND 78 N. Y. SKIRMISHERS ON GROUND IN FRONT. COL. JAMES C. LANE (WOUNDED) AND LEWIS R. STEGMAN (COMMANDING). KILLED 10, WOUNDED 38, MISSING 11. TOTAL 59.
Left Side - IN JULY 1864, THESE TWO REGIMENTS WERE CONSOLIDATED. MUSTERED OUT JULY 1865. COL. HARVEY S. CHATFIELD, COMMANDING.