27th Infantry Division, World War Two, Men Who Were Federalized In 1940
On September 25, 1940, a full year before Pearl Harbor, President Franklin D. Roosevelt signed Executive Order 8551 which Ordered Certain Units and Members of the National Guard of the United States Into the Active Military Service of the United States. This included men of the 27th Division, the New York Division. These men reported for duty less than three weeks later when they assembled at their various armories around the state on October 15, 1940.
This collection has 28,969 cards. You can download a full version of the spreadsheet here.
This is what a typical card looked like: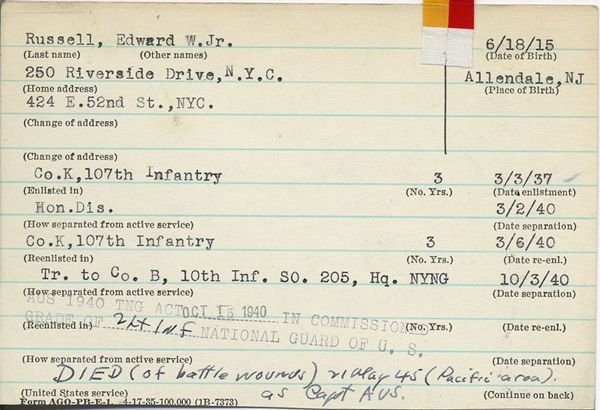 Each card was 6 inches wide and 4 inches high.
The yellow tab at the top signifies that this person was wounded in action.
The red tab at the top signifies that this person was killed in action.
Some cards have additional information on the back. However, that information was not captured in the spreadsheets generated. This information typically was additional enlistment / discharge dates.
Volunteers working throughout New York state and the country have spent many hours indexing these cards so that the general public can access this information over the web. The museum would like to thank the volunteers who made this possible:
Joseph Anniello, Albany, NY
Rick Bennett, Stokesdale, North Carolina
Greg Cusack, Scituate, Mass.
June Green, Tampa, Florida
Greta Hamilton, Webster Groves, Missouri
Jeff Henrikson, Delmar, NY
Karen Horn Jansen, Saratoga Springs, NY
Col. Jack Kennedy (USA Ret.), Elfers, FLorida
Mike Mansir, Ballston Spa, NY
Brian Parsons, Malta, NY
Shelby Patterson, Albany, NY
Bruce Scott, Albany, NY
Lisa Jelly Smith, Broadalbin, NY
Lynette Stilley, Hickory, North Carolina
Tammi Stock, Rensselaer, NY
The collection is organized alphabetically by last name.
A | B | C | D | E | F | G | H | I | J | K | L | M
N | O | P | Q | R | S | T | U | V | W | X | Y | Z
Here is the entire spreadsheet in an Micrsoft Excel format.