7th Cavalry Regiment
Nickname: First Mounted Rifles
Left State: November 23, 1861
Mustered Out: March 31, 1862
The following is taken from New York in the War of the Rebellion, 7th ed. Frederick Phisterer. Albany: J. B. Lyon Company, 1912.
This regiment was also designated at times, and especially by the War Department, as the 7th N. Y. Volunteer Cavalry; the sketch of the regiment will, however, be found under its correct appellation, namely, 1st Regiment Mounted Rifles.
Northern Black Horse Cavalry. This regiment was organized at Troy to serve three years. November 18, 1861, it was designated by the State authorities as the ad Regiment of Cavalry; by the War Department it was designated 7th N. Y. Volunteer Cavalry, under which designation it was mustered out of service, and is, therefore, here so recorded. The companies were mustered in the service of the United States, A at Salem, November 6; B at Sandy Creek, November 6; C, D, E, F and H at Troy, November 6; and G at Elmira, November 8, 1861.
There were only eight companies organized and these were recruited principally: A at Salem; B at Sandy Creek; C at Troy, Hoosick Falls, Schenectady, Berlin, Petersburgh and Grafton; D at Troy, Ogdensburgh, Newburgh, Saugerties and Goshen; E at Troy, Lowville, Albany and Carthage; F at Troy, Ballston, Broadalbin, Gloversville and May-field; G at Elmira, Lockport and Troy; H at Troy, Boonville, Ballston, Schuylerville, Nassau and Pittstown.
The regiment, commanded by Col. Andrew J. Morrison, left the State November 23, 1861, and served near Washington, D. C., until March 31, 1862, when, not having been mounted, it was honorably discharged and mustered out.
During its service it lost by death, of disease, seven enlisted men.
The following is taken from The Union army: a history of military affairs in the loyal states, 1861-65 -- records of the regiments in the Union army -- cyclopedia of battles -- memoirs of commanders and soldiers, Volume II: New York, Maryland, West Virginia and Ohio. Madison, WI: Federal Pub. Co., 1908.
Seventh Cavalry.—This regiment was organized at Troy, N. Y., in the fall of 1861, for three years. It was known as the "Northern Black Horse Cavalry," and was designated by the state authorities as the 2nd cavalry, but by the war department as the 7th N. Y. volunteer cavalry and was so mustered out. Only eight companies were organized and these were mustered into the U. S. service for three years, Nov. 6-8. 1861, at Salem, Sandy creek, Troy and Elmira. The regiment left the state for Washington on Nov. 23, commanded by Col. Andrew J. Morrison, and served through the winter in the vicinity of Washington. It was never mounted and was mustered out and discharged the service March 31, 1862. It lost during service 7 enlisted men. who died of disease. (The ist regiment mounted rifles was frequently designated by the war department as the 7th N. Y. cavalry, but will be found under its correct designation.)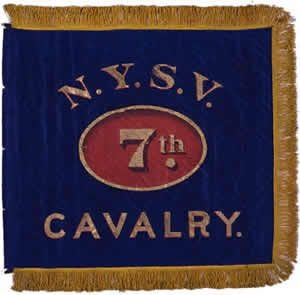 7th Regiment Cavalry, NY Volunteers | Flank Marker | Civil War
This blue silk presentation marker features painted inscriptions and a center oval shield. "N.Y.S.V." and "CAVALRY." are in mirror image on the…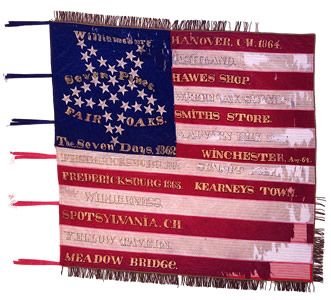 7th Regiment Cavalry, NY Volunteers | National Flag | Civil War
On November 22, 1861, the 7th Regiment Cavalry, NY Volunteers assembled outside the courthouse in Troy, New York where John A. Griswold presented the…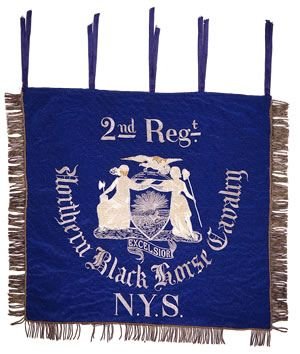 7th Regiment Cavalry, NY Volunteers | Standard | Civil War
On November 22, 1861, the 7th Regiment Cavalry, NY Volunteers assembled outside the courthouse in Troy, New York where John A. Griswold presented the…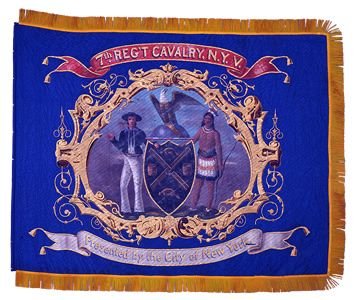 7th Regiment Cavalry, NY Volunteers | Standard | Civil War
The 7th Regiment Cavalry's standard features the Arms of the City of New York painted on the obverse and reverse. Both sides also include a painted…