7th Regiment Cavalry, NY Volunteers | Flank Marker | Civil War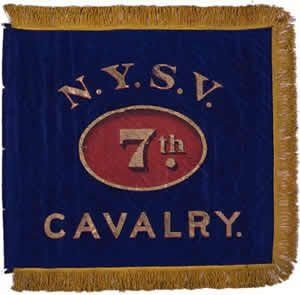 Flag dimensions: 29" hoist X 30 1/4" fly.
(2001.0031)
This blue silk presentation marker features painted inscriptions and a center oval shield. "N.Y.S.V." and "CAVALRY." are in mirror image on the reverse. The top, fly, and bottom edges include 2.5" long, yellow-colored fringe made of cotton wrapped in silk.