Warren Monument - 146th New York Infantry Regiment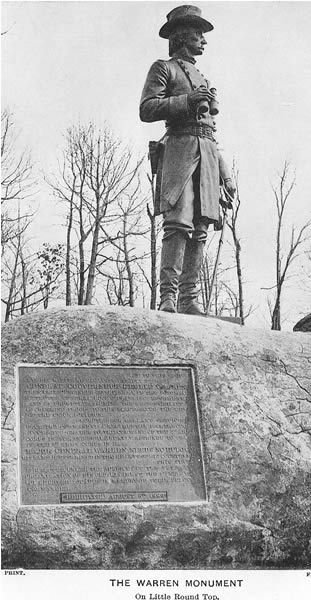 Taken from Final Report on the Battlefield of Gettysburg (New York at Gettysburg) by the New York Monuments Commission for the Battlefields of Gettysburg and Chattanooga. Albany, NY: J.B. Lyon Company, 1902.
INSCRIPTION
LED TO THIS SPOT BY HIS MILITARY SAGACITY ON JULY 2, 1863, GENERAL GOUVERNEUR KEMBLE WARREN, THE CHIEF ENGINEER OF THE ARMY OF THE POTOMAC, DETECTED GENERAL HOOD'S FLANKING MOVEMENT, AND BY PROMPTLY ASSUMING THE RESPONSIBILITY OF ORDERING TROOPS TO THIS PLACE, SAVED THE KEY OF THE UNION POSITION.
PROMOTED FOR GALLANT SERVICES FROM THE COMMAND OF A REGIMENT IN 1861, THROUGH SUCCESSIVE GRADES TO THE COMMAND OF THE 2D ARMY CORPS IN 1863, AND PERMANENTLY ASSIGNED TO THAT OF THE 5TH ARMY CORPS IN 1864. MAJOR GENERAL WARREN NEEDS NO EULOGY. HIS NAME IS ENSHRINED IN THE HEARTS OF HIS COUNTRYMEN.
THIS STATUE IS ERECTED UNDER THE AUSPICES OF THE VETERAN ORGANIZATION OF HIS OLD REGIMENT, THE 5TH NEW YORK VOLS., DURYEE ZOUAVES, IN MEMORY OF THEIR BELOVED COMMANDER.
DEDICATED AUGUST 8, 1888.