107th New York Infantry Regiment's Monument at Gettysburg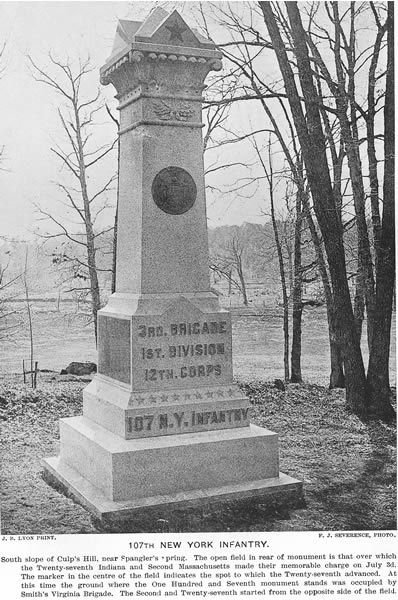 Taken from Final Report on the Battlefield of Gettysburg (New York at Gettysburg) by the New York Monuments Commission for the Battlefields of Gettysburg and Chattanooga. Albany, NY: J.B. Lyon Company, 1902.
INSCRIPTIONS
Front - 107 N. Y. INFANTRY 3RD BRIGADE 1ST DIVISION 12TH CORPS
Reverse - OCCUPIED THIS POSITION ON THE MORNING OF JULY 2, WITHDRAWN AT 7 P. M., AND SENT TO NEAR LITTLE ROUND TOP. RETURNING DURING THE NIGHT FOUND THESE WORKS IN POSSESSION OF THE ENEMY. DURING THE MORNING OF JULY 3, WAS IN POSITION NEAR BALTIMORE PIKE. REOCCUPIED THESE WORKS ABOUT 2 P. M.
Right Side - ENGAGED IN ALL THE OPERATIONS OF THE I2TH CORPS IN THE EAST AND THE 20TH CORPS IN THE WEST, FROM ANTIETAM TO CLOSE OF THE WAR.