Monument at Gettsyburg
Taken from Final Report on the Battlefield of Gettysburg (New York at Gettysburg) by the New York Monuments Commission for the Battlefields of Gettysburg and Chattanooga. Albany, NY: J.B. Lyon Company, 1902.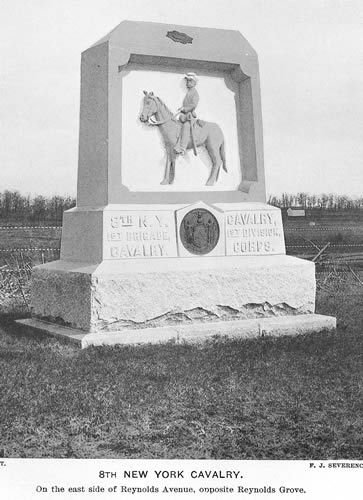 INSCRIPTIONS
Front - 8TH N. Y. CAVALRY 1ST BRIGADE 1ST DIVISION CAVALRY CORPS.
Reverse - CASUALTIES 3 KILLED 10 WOUNDED 21 MISSING PICKETS OF THIS REGIMENT WERE ATTACKED ABOUT 5 A. M., JULY 1, 1863, BY THE ADVANCE SKIRMISHERS OF HETH'S CONFEDERATE DIVISION; THE REGIMENT ENGAGED THE ENEMY WEST OF SEMINARY RIDGE, WITH THE BRIGADE STUBBORNLY CONTESTING THE GROUND AGAINST GREAT ODDS UNTIL ABOUT 10:30 A. M., WHEN IT WAS RELIEVED BY THE ADVANCE REGIMENTS OF THE 1ST CORPS.