76th New York Infantry Regiment's Monument at Gettysburg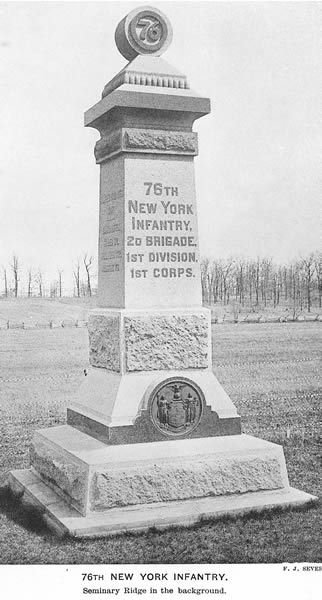 Taken from Final Report on the Battlefield of Gettysburg (New York at Gettysburg) by the New York Monuments Commission for the Battlefields of Gettysburg and Chattanooga. Albany, NY: J.B. Lyon Company, 1902.
INSCRIPTIONS
Front - 76TH NEW YORK INFANTRY, 2D BRIGADE, 1ST DIVISION, 1ST CORPS.
Reverse - FlRE OPENED HERE, JULY 1, 1863, AT 10 A. M. SECOND STAND AT R. R. CUT. THIRD, AT CULP'S HILL JULY 2 AND 3.
Left Side - NUMBER ENGAGED, 348. CASUALTIES: KILLED 32, WOUNDED 132, MISSING 70.
Right Side - REGIMENT RAISED AT CORTLAND AND CHERRY VALLEY, N.Y. MUSTERED IN OCT. 4, 1861. PARTICIPATED IN 25 ENGAGEMENTS. CONSOLIDATED WITH 147TH N. Y. INF'Y. DEC. 31, 1864.