58th New York Infantry Regiment's Monument at Gettysburg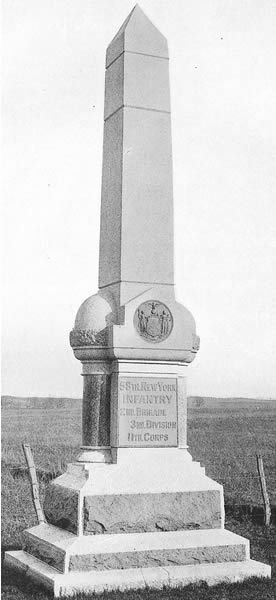 Taken from Final Report on the Battlefield of Gettysburg (New York at Gettysburg) by the New York Monuments Commission for the Battlefields of Gettysburg and Chattanooga. Albany, NY: J.B. Lyon Company, 1902.
INSCRIPTIONS
Front - 58TH NEW YORK INFANTRY, 2ND BRIGADE, 3RD DIVISION, 11TH CORPS
Reverse - TWO COMPANIES OF THE REGIMENT HELD THIS POSITION JULY 1, 1863. UNTIL ORDERED TO CEMETERY HILL. WERE THERE JOINED BY THE OTHER COMPANIES AND ENGAGED ON THE 2D AND 3D. AFTER THE REPULSE OF PICKETT'S CHARGE SKIRMISHED INTO GETTYSBURG. CASUALTIES; KILLED 2, WOUNDED 15, MISSING 3; TOTAL, 20.