44th New York Infantry Regiment's Monument at Gettysburg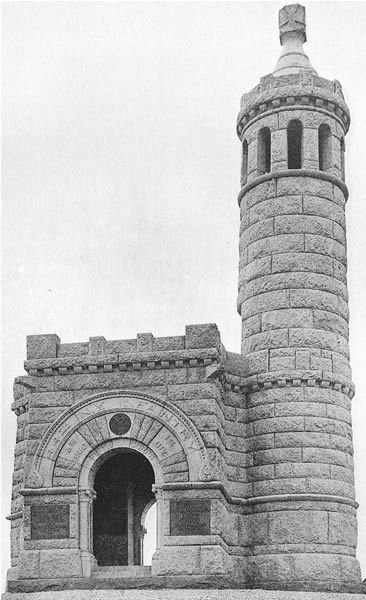 Taken from Final Report on the Battlefield of Gettysburg (New York at Gettysburg) by the New York Monuments Commission for the Battlefields of Gettysburg and Chattanooga. Albany, NY: J.B. Lyon Company, 1902.
INSCRIPTIONS
Front - 44TH N. Y. INFANTRY 3RD BRIG. 1ST DIV. FIFTH CORPS.
Reverse - THE 44TH N. Y. INFANTRY, LIEUT. COLONEL FREEMAN CONNOR, COMMANDING, HELD POSITION ABOUT 100 FEET IN ADVANCE OF THIS MONUMENT, DESIGNATED BY A MARKER, FROM ABOUT 5 P.M. JULY 2, TO ABOUT II A. M. JULY 3, 1863. NUMBER ENGAGED 313. CASUALTIES. KILLED,— 2 OFFICERS, 24 ENLISTED MEN. WOUNDED,— 5 OFFICERS (OF WHICH ONE DIED) 75 ENLISTED MEN (OF WHICH TEN DIED). TOTAL LOSS, 106. AT NOON OF JULY 3, WAS PLACED IN RESERVE TO THE RIGHT OF LITTLE ROUND TOP WHERE IT REMAINED UNTIL THE CLOSE OF THE BATTLE. THE 44TH NEW YORK INFANTRY WAS ORGANIZED AT ALBANY, N. Y., AUGUST 8TH—OCTOBER 21, 1861. NUMBER ENLISTED, 1096. ASSIGNED TO BRIGADE COMMANDED BY GENERAL DANIEL BUTTERFIELD — SUBSEQUENTLY KNOWN AS 3D BRIG. 1ST DIV. 5TH CORPS, A. P. IN OCTOBER 1862, TWO FULL COMPANIES, ONE OF ALBANY STATE NORMAL SCHOOL STUDENTS, AND- THE OTHER FROM YATES Co., N. Y. WERE ADDED. TOTAL ENROLLMENT, 1585. ENGAGEMENTS. YORKTOWN, HANOVER COURT HOUSE, GAINES' MILL, MALVERN HILL, GROVETON, ANTIETAM, SHEPHERDSTOWN FORD, FREDERICKSBURG, CHANCELLORSVILLE, MIDDLEBURG, GETTYSBURG, JONES' CROSS ROADS, RAPPAHANNOCK STATION, MINE RUN, WILDERNESS, SPOTSYLVANIA, NORTH ANNA, BETHESDA CHURCH, COLD HARBOR, PETERSBURG, WELDON RAILROAD, POPLAR SPRING CHURCH. CASUALTIES. KILLED, 3 OFFICERS, 122 ENLISTED MEN. WOUNDED, 35 OFFICERS (OF WHICH ONE DIED), 504 ENLISTED MEN (OF WHICH SIXTY-TWO DIED). DIED OF DISEASE, 2 OFFICERS, 145 ENLISTED MEN. MISSING IN ACTION, 50 ENLISTED MEN.