42nd New York Infantry Regiment's Monument at Gettysburg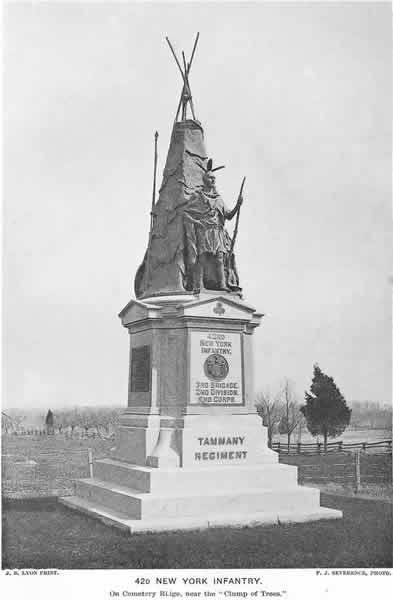 Taken from Final Report on the Battlefield of Gettysburg (New York at Gettysburg) by the New York Monuments Commission for the Battlefields of Gettysburg and Chattanooga. Albany, NY: J.B. Lyon Company, 1902.
INSCRIPTIONS
Front - 42ND NEW YORK INFANTRY. 3RD BRIGADE, 2ND DIVISION, 2ND CORPS. TAMMANY REGIMENT
Reverse - THIS REGIMENT WAS RAISED AND ORGANIZED BY COLONEL WILLIAM D. KENNEDY UNDER THE PATRONAGE OF THE TAMMANY SOCIETY, AND OF THE UNION DEFENCE COMMITTEE OF NEW YORK CITY.
Left Side - MUSTERED INTO U. S. SERVICE, JUNE 22, 1861. TOTAL ENROLLMENT 1,210. PARTICIPATED IN 19 BATTLES. KILLED 92, WOUNDED 328, MISSING 298. MUSTERED OUT JULY 13, 1864.
Right Side - JULY 2, 1863.— WENT TO SUPPORT OF 3D CORPS, ABOUT 5 P. M. HELD THIS POSITION JULY 3, AND ASSISTED IN REPULSING THE ASSAULT OF PICKETT'S DIVISION. CASUALTIES: KILLED 15, WOUNDED 55 MISSING 4.