39th Infantry Regiment
Nickname: Garibaldi Guard; Italian Legion; Netherland Legion; Polish Legion; Hungarian Regiment; First Foreign Rifles.
Mustered in: May 28, 1861
Mustered out: July 1, 1865
The following is taken from New York in the War of the Rebellion, 3rd ed. Frederick Phisterer. Albany: J. B. Lyon Company, 1912.
This regiment, raised by the Union Defense Committee of New York city, under special authority from the War Department, was accepted by the State May 27, 1861; organized and recruited at New York city under Col. Frederick George D'Utassy, and mustered in the service of the United States for three years at Washington, D. C., June 6, 1861, to date from May 28, 1861. Three companies consisted of Germans, three of Hungarians, one of Swiss, one of Italians, one of Frenchmen, and one of Spaniards and Portuguese. May 31, 1863, the regiment was consolidated into four companies: A, B, C and D; new companies were organized in the field from recruits: E December 8; F December 14; G December 19; H December 30, 1863; I and K in January, 1864. Companies A, B, C and D were mustered out in New York city June 24, 1864, those not entitled to be discharged having previously been transferred to other companies; and the regiment, six companies, E, F, G, H, I and K, retained in service. In October, 1864, a new Company D, enlisted principally at Malone for one year, joined the regiment; June 2, 1865, the members of the regiment not to be mustered out with it were transferred to the 185th Infantry.
The regiment left the State May 28, 1861; served at and near Washington, D. C., from June 1, 1861; in the 1st Brigade, 5th Division, Army of Northeastern Virginia, from July 13, 1861; in Blenker's Brigade, Division of Potomac, from August 4, 1861; in Stahel's Brigade, Blenker's Division, Army of the Potomac, from October 15, 1861; in 1st Brigade, same division, Mountain Department, from April, 1862; in White's Brigade, Army of Virginia, at Winchester, Va., from July, 1862; at Harper's Ferry, W. Va., from September, 1862; at Camp Douglass, Chicago, Ill., from September 27, 1862; near Washington, D.C., 1st Brigade, Casey's Division, defenses of Washington, from December, 1862; in January, 1863, in 3d Brigade, Casey's, later Abercrombie's Division, 22d Corps; in 3d Brigade, 3d Division, 2d Corps, Army of the Potomac, from June 25, 1863; in the 3d, and for a time in the Consolidated, Brigade, 1st Division, 2d Corps, Army of the Potomac, from March, 1864; and was honorably discharged and mustered out, under Col. Augustus Funk, July I, 1865, except (new) Company D, which had been mustered out, June 7, 1865, at Alexandria, Va.
During its service the regiment lost by death, killed in action, 5 officers, 62 enlisted men; of wounds received in action, 3 officers, 49 enlisted men; of disease and other causes, 1 officer, 158 enlisted men; total, 9 officers, 269 enlisted men; aggregate, 278; of whom 1 officer and 99 enlisted men died in the hands of the enemy.
The following is taken from The Union army: a history of military affairs in the loyal states, 1861-65 -- records of the regiments in the Union army -- cyclopedia of battles -- memoirs of commanders and soldiers. Madison, WI: Federal Pub. Co., 1908. volume II.
Thirty-ninth Infantry.—Cols., Frederick G. D'Utassy, Augustus Funk; Lieut.-Cols., Alexander Repetti, Charles Schwartz, James G. Hughes, John McE. Hyde, David A. Allen; Majs., Charles Wiegand, Anton Vekey, Charles Schwartz, Hugo Hillebrandt, Charles C. Baker, John McE. Hyde, David A. Allen, Charles H. Ballou. The 39th, the "Garibaldi Guard," recruited in New York city, was composed of three Hungarian companies, three German, one Swiss, one Italian, one French, one Spanish and one Portuguese, most of whose members had already seen active service. It was mustered into the U. S. service at New York, May 28, 1861, for three years and left the state for Washington on the same day. Camp Grinnell was established near Alexandria and occupied until July 17, when the 39th participated in the movement of the army toward Manassas with the 1st brigade, 5th division, though in the battle of Bull Run the regiment was but slightly engaged. After a few weeks at Alexandria much ill feeling prevailed over the failure to receive some expected privileges and 50 members of Co. G mutinied, but returned to the command after being disciplined by arrest and imprisonment. Until November it was encamped near Roach's mills, when winter quarters were established at Hunter's Chapel. The brigade, originally commanded by Gen. Blenker, was in the spring of 1862 commanded by Gen. Stahel and served in Blenker's division of Sumner's corps. In April, 1862, the division was assigned to Gen. Fremont's command and joined his forces May 11, taking part in the engagements near Strasburg and at Cross Keys. On June 26 the 39th was assigned to the 1st brigade, 3d division, 2nd corps of the army under Gen. Pope, and encamped at Middletown, Va., during July and August. The regiment shared in the disaster at Harper's Ferry in Sept., 1862, and in the surrender 530 of its members fell into the hands of the enemy, but were paroled and proceeded to Camp Douglas, Chicago. They were exchanged in November, returned to Washington and established winter quarters at Centerville, where the regiment was assigned to the 3d brigade, Casey's division, 3d corps in Jan., 1863. In June, 1863, it became part of the 3d brigade, 3d division, 2d corps, and moved to Gettysburg, where it fought valiantly in the front of the left center, with a loss of 95 killed and wounded, the brigade losing six field officers killed or seriously wounded. Three battle flags were captured by the 39th, a Mass. battery was recaptured, and the regiment received official commendation for its valor. Moving southward with the army, the regiment encountered the enemy at Auburn ford and Bristoe Station in October; participated in the Mine Run campaign; went into winter quarters at Brandy Station, where in Dec., 1863, four new companies were received; in Jan., 1864, two others were added to the regiment, which had been previously consolidated into a bat-talion of four companies. In February it was active at Morton's ford; was assigned in March to the 3d brigade, 1st division, 2nd corps; shared in the Wilderness campaign, being active at the Wilderness, at Todd's tavern, the Po river, Spottsylvania, the North Anna, Totopotomoy and Cold Harbor. On June 25, 1864, the origi-nal members not reenlisted were mustered out at New York city, the remainder of the regiment was left in the field and moved with the Army of the Potomac to Petersburg. Seven companies, known as the 39th battalion, were assigned to the consolidated brigade, 2nd corps, and were engaged at Petersburg, Deep Bottom, at Reams' station, Hatcher's run, White Oak ridge, and in the final assault on the Petersburg fortifications April 2, 1865. The battalion then joined in the pursuit of Lee's army and performed various routine duties in the vicinity of Richmond until July I, 1865, when it was mustered out at Alexandria. The 39th lost during its term of serv-ice 119 by death from wounds, and 159 by death from accident, imprisonment or disease, of whom 94 died in prison.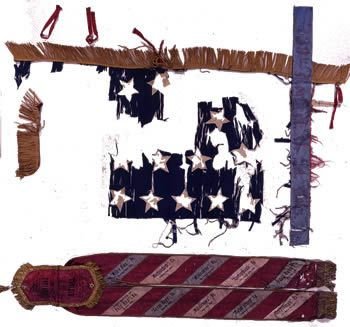 39th Regiment NY Volunteer Infantry | National Color | Civil War
The 39th Regiment, or "Garibaldi Guard," organized in New York City under Colonel Frederick George D'tassy and mustered into service for three years…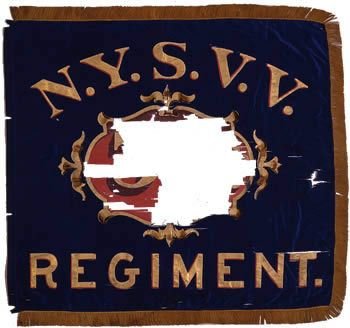 39th Regiment NY Volunteer Infantry | Flank Markers | Civil War
The 39th Regiment , or "Garibaldi Guard," mustered into service for three years by 6 June 1861. When their three year term expired, those entitled…