15th Regiment, New York National Guard
Mustered in: June 6, 1864
Mustered out: July 7, 1864
The following is taken from New York in the War of the Rebellion, 3rd ed. Frederick Phisterer. Albany: J. B. Lyon Company, 1912.
Of this regiment, located in Queens county, two companies entered, in June and July, 1861, the United States service as members of the 74th N.Y. Volunteers; the artillery company of the regiment joined the 2nd N.Y. Volunteer Artillery as Company L, in November, 1861, and later became the 34th Battery. The regiment is not in existence at this date.
In 1863, the regiment saw service in Queens county, during the Draft riots; June 6, 1864, the regiment was mustered in the United States service for thirty days; it served under the command of its Colonel, Charles H. Burtis, in New York harbor, and with it, and as parts of it, served portions of the 16th, 17th and 18th Regiments. It was mustered out July 7, 1864.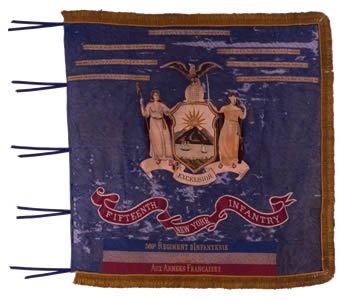 15th Regiment NY National Guard | Regimental Color | World War I
This blue silk Regimental Color includes seven battle streamers sewn above the embroidered Arms of the State of New York to honor the regiment's…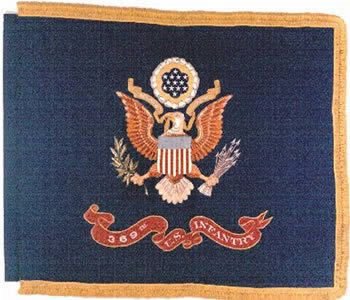 369th Regiment, US Army | Regimental Color | c. 1920
The 15th Regiment, New York National Guard, New York State's first segregated African-American National Guard unit, formally organized in 1916. The…