369th Regiment, US Army | Regimental Color | c. 1920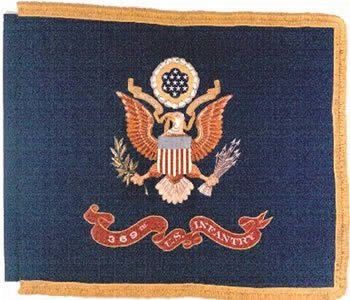 Flag dimensions: 56" hoist X 65 3/4" fly.
(2000.0164)
The 15th Regiment, New York National Guard, New York State's first segregated African-American National Guard unit, formally organized in 1916. The United States entered World War I in April 1917 and after a brief training period in South Carolina, the 15th Regiment embarked for Europe in December 1917. By April 1918, the U.S. Army redesignated the regiment as the 369th Regiment, U.S. Army, and assigned the unit to the French Army. The 369th Regiment carried their New York State regimental color to Europe during World War I. This blue silk regimental color is not the unit's state regimental color but instead is their federal regimental color featuring the Arms of the United States embroidered in center. This flag most likely dates to just after World War I. A flag restorer sandwiched the flag between nylon net in the late 1960s.