184th Infantry Regiment
Mustered in: September 12, 1864
Mustered out: June 29, 1865
The following is taken from New York in the War of the Rebellion, 3rd ed. Frederick Phisterer. Albany: J. B. Lyon Company, 1912.
This regiment, Col. Wardwell G. Robinson, was organized at Oswego, and mustered in the service of the United States for one year, at Elmira, September 12, 15 and 16, 1864. The few three years' men who were not to be mustered out with the regiment were transferred, June 27, 1865, to the 96th Infantry.
The companies were recruited principally: A at Volney, Granby and Granger; B at Oswego, Scriba, Georgetown, DeRuyter and New Haven; C at Hannibal, Granby and Oswego; D at Oswego, Lebanon, Eaton, DeRuyter, Fenner and Mexico; E at Volney, Granby, Clarksville and Hannibal; F at Oswego; G at Sandy Creek, Richland, Boylston and Scriba; H at Hastings, Parish and West Monroe; I at Palermo, New Haven, Mexico, Hannibal and Constantia; and K at Schroeppel, Parish, West Monroe, Fenner and Richland.
Companies A, B, D and F, Maj. W. D. Ferguson, left the State September 12, 1864, and served in the 1st Brigade, 3d Division, 6th Corps, in the Army of the Shenandoafi, from September, 1864; the other companies, Colonel Robinson, left the State September 16, 1864, and served at Bermuda Hundred, Army of the James; the regiment served in the Separate Brigade, Army of the James, at Harrison's Landing, Company I, at Fort Poca-hontas, Va., from December, 1864; and, commanded by Colonel Robinson, it was honorably discharged and mustered out June 29, 1865, at City Point, Va.
During its service the regiment lost by death, killed in action, 1 officer, 2 enlisted men; of wounds received in action, 8 enlisted men; of disease and other causes, 27 enlisted men; total, 1 officer, 37 enlisted men; aggregate, 38; of whom 3 enlisted men died in the hands of the enemy.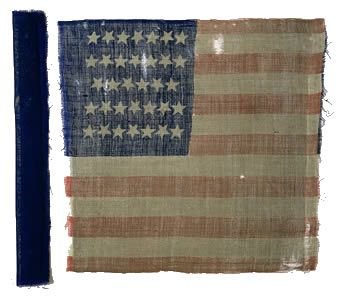 184th Regiment NY Volunteer Infantry | Camp Colors | Civil War
Printed wool camp colors in the US national pattern as prescribed in General Order No. 4, Headquarters of the U.S. Army, dated 18 January 1862. These…