157th New York Infantry Regiment's Monument at Gettysburg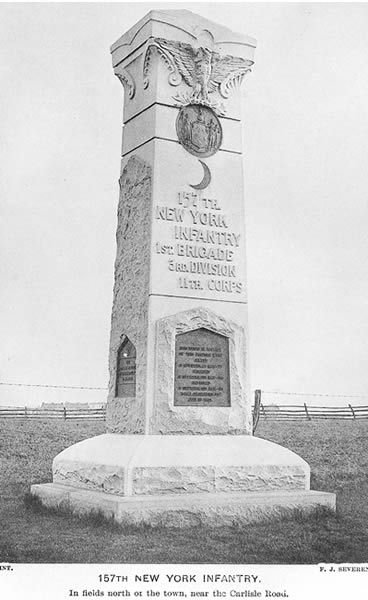 Taken from Final Report on the Battlefield of Gettysburg (New York at Gettysburg) by the New York Monuments Commission for the Battlefields of Gettysburg and Chattanooga. Albany, NY: J.B. Lyon Company, 1902.
INSCRIPTIONS
Front - 157TH NEW YORK INFANTRY, 1ST BRIGADE, 3RD DIVISION, l1TH CORPS; 300 YARDS IN ADVANCE OF THIS POSITION WERE KILLED: 4 OFFICERS, 23 MEN 27; WOUNDED: 8 OFFICERS, 158 MEN l66; CAPTURED: 6 OFFICERS, 108 MEN 114; TOTAL CASUALTIES — 307, JULY 1, 1863.
Right - MUSTERED IN SEPTEMBER 19, 1862. MUSTERED OUT JULY 10, 1865.
Left - THE ADVANCE POSITION IS DESIGNATED BY A MARKER.
(Note.— This regiment has two monuments; one erected by the State and one by the regiment.)