154th Infantry Regiment
Mustered in: September 24, 1862
Mustered out: June 11, 1865
The following is taken from New York in the War of the Rebellion, 3rd ed. Frederick Phisterer. Albany: J. B. Lyon Company, 1912.
Colonel Addison G. Rice, succeeded, September 25, 1862, by Col. Patrick H. Jones, received, August 19, 1862, authority to recruit this regiment in the then 32d Senatorial District of the State. It was organized at Jamestown, and there mustered in the service of the United States for three years September 24, 25 and 26, 1862. June 9, 1865, the men not to be mustered out with the regiment were transferred to the. 102d Infantry.
The companies were recruited principally: A at Ellicottsville, Carlton, Cold Spring, Humphrey, Randolph, Great Valley, Carrolton, Little Valley, Conewango, South Valley, Salamanca and Napoli; B at New Albion, Otto, Dayton, Perrysburg, Leon, Mansfield and Persia; C at Portville, Hinsdale, Ischua, Allegany, Humphrey and Olean; D at Machias, Yorkshire, Freedom, Franklinville, Ashford and Lyndon; E at Portland, West-field, Ripley and Chautauqua; F at Charlotte, Arkwright, Gerry, French Creek and Freedom; G at Ashford, Ellicottsville, East Otto, Allegany, Mansfield, Olean, Jamestown and Hillsdale; H at Randolph, Napoli, Salamanca, Little Valley, Great Valley, Jamestown, Carrolton, South Valley, Cold Spring and Farmington; I at Olean, Hinsdale, Salamanca, Allegany, Great Valley, Humphrey, New Albion, Portville, Machias and Yorkshire; and K at Conewango, Perrysburg, Dayton, Persia, Leon and New Albion.
The regiment left the State September 30, 1862; it served in the 1st Brigade, 2d Division, nth Corps, from October, 1862; in the 2d Brigade, 2d Division, 20th Corps, from April, 1864; and, commanded by Col. Lewis D. Warner, it was honorably discharged and mustered out June 11, 1865, near Bladensburg, Md.
During its service the regiment lost by death, killed in action, 1 officer, 54 enlisted men; of wounds received in action, I officer, 30 enlisted men; of disease and other causes, 2 officers, 193 enlisted men; total, 4 officers, 277 enlisted men; aggregate, 281; of whom 1 officer, 90 enlisted men, died in the hands of the enemy.
The following is taken from The Union army: a history of military affairs in the loyal states, 1861-65 -- records of the regiments in the Union army -- cyclopedia of battles -- memoirs of commanders and soldiers. Madison, WI: Federal Pub. Co., 1908. volume II.
One Hundred and Fifty-fourth Infantry.—Cols., Patrick H. Jones, Lewis D. Warner; Lieut.-Cols., Henry C. Loomis, Daniel B. Allen, Lewis D. Warner, Harrison Cheney; Majs., Samuel G. Love, Jacob H. Ten Eyck, Daniel B. Allen, Lewis D. Warner, Harrison Cheney, Alfred W. Benson This regiment, recruited in the counties of Chautauqua and Cattaraugus, was organized at Jamestown, where it was mustered into the U. S. service on Sept. 24-26, 1862, for three years. Four days later it left the state and was assigned to the 1st brigade, 2nd (Steinwehr's) division, nth corps, which was stationed during the fall of 1862 in Northern Virginia in the vicinity of Centerville. The regiment went into winter quarters with the corps at Stafford, Va., and suffered severely in the disaster which befell the corps at Chancellorsville, losing 32 killed, 81 wounded and 115 captured and missing. The regiment met with another severe loss at Gettysburg, where it was heavily engaged in the battle of the first day, and in the gallant defense of Cemetery hill the second day, losing 6 killed, 21 wounded and 173 missing. It accompanied the army on its return to Virginia and in September was ordered to Tennessee with the nth and 12th corps to reinforce Gen. Rosecrans. In October it was lightly engaged in the midnight battle of Wauhatchie and had 6 men wounded at Missionary ridge. When the 20th corps was formed in April, 1864, the 154.th was assigned to the 2nd brigade, 2nd division (Geary's "White Stars") with which it fought from Chattanooga to Atlanta, and then to the end of the Carolina campaign. At Rocky Face ridge, the first important battle of the Atlanta campaign, the regiment behaved with distinguished gallantry and sustained its heaviest loss —13 killed and 37 wounded. It also lost heavily at Kennesaw mountain, where 36 were killed and wounded. At the conclusion of the campaign through the Carolinas it marched with the 20th corps to Washington and participated in the grand review. Commanded by Col. Warner, it was mustered out at Bladensburgh, Md., June 11, 1865. The regiment lost during service 2 officers and 84 men killed and mortally wounded; 2 officers and 193 men died of disease and other causes, a total of 281 of whom I officer and 90 men died in Confederate prisons.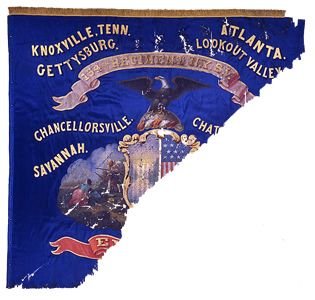 154th Regiment NY Volunteer Infantry | Regimental Color | Civil War
On May 30, 1865, near Bladensburg, Maryland, the 154th New York Volunteer Infantry received the Regimental Color seen here from Governor Reuben Fenton…