154th Regiment NY Volunteer Infantry | Regimental Color | Civil War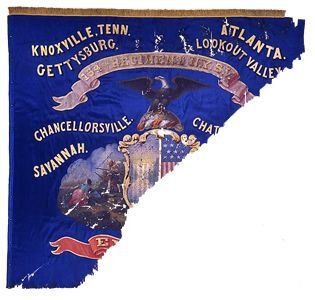 Flag dimensions: 75" hoist X 78 1/2" fly.
(2008.0003)
On May 30, 1865, near Bladensburg, Maryland, the 154th New York Volunteer Infantry received the Regimental Color seen here from Governor Reuben Fenton on behalf of Cattaraugus County. Made by Tiffany & Co., the blue, silk flag features painted Revolutionary War battle scenes, including the battle at Lexington, Massachusetts from the 1863 engraving, First Blow for Liberty, by A.H. Richie, and battle honors commemorating the regiment's entire service beginning with Chancellorsville, Virginia, May 1863. A flag restorer in 1965 sandwiched the flag between nylon net. Three years later, the flag suffered permanent damage while on loan for exhibition when someone tore away the flag's lower fly corner and most of the fringe. The flag restorer then added blue polyester fabric and fringe to disguise the losses. State Parks textile conservators removed the 1965 netting treatment and 1968 repairs to realign displaced painted fragments and to better stabilize the painted areas.