149th Infantry Regiment
Nickname: Fourth Onondaga
Mustered in: September 18, 1862.
Mustered out: June 12, 1865.


The following is taken from New York in the War of the Rebellion, 3rd ed. Frederick Phisterer. Albany: J. B. Lyon Company, 1912.
Colonel Henry A. Barnum received authority, August 28, 1862, to recruit this regiment in the then 22d. Senatorial District of the State; it was organized at Syracuse and there mustered in the United States service for three years September 17-18, 1862. June 10, 1865, the men not to be mustered out with the regiment were transferred to the 102d Infantry.
The companies were recruited principally: A, B, C and D at Syracuse; E at Syracuse, Pompey, Onondaga and Geddes; F at Manlius, DeWitt and Fabius; G at Syracuse, Skaneateles, Van Buren, Lysander, Elbridge and Manlius; H at Syracuse, Brewerton, Cicero and Centerville; I at Syracuse, Otisco and Fabius; and K at Syracuse, Baldwins-ville and Tully.
The regiment left the State September 23, 1862; it served in Casey's Division, defenses of Washington, from September 26, 1862; in the 3d Brigade, 2d Division, I2th Corps, from September 30, 1862; in the 3d Brigade, 2d Division, 2Oth Corps, from April, 1864; and, commanded by Col. Nicholas Grumbach, it was honorably discharged and mustered out June 12, 1865, near Bladensburg, Md.
During its service the regiment lost by death, killed in action, 5 officers, 77 enlisted men; of wounds received in action, 47 enlisted men; of disease and other causes, 79 enlisted men; total, 5 officers, 204 enlisted men; aggregate, 209; of whom 7 enlisted men died in the hands of the enemy.
The following is taken from The Union army: a history of military affairs in the loyal states, 1861-65 -- records of the regiments in the Union army -- cyclopedia of battles -- memoirs of commanders and soldiers. Madison, WI: Federal Pub. Co., 1908. volume II.
One Hundred and Forty-ninth Infantry.—Cols., Henry A. Bar-num, Nicholas Grumbach; Lieut.-Cols., John M. Strong, Abel G. Cook, Charles B. Randall, Edward D. Murray, Jr., Nicholas Grumbach, Henry W. Burhaus; Majs., Abel G. Cook, Charles B. Randall, Robert E. Hopkins, Nicholas Grumbach, Henry W. Burhaus. This regiment, recruited in the county of Onondaga, was organized at Syracuse and there mustered into the U. S. service on Sept. 18, 1862, for a three years' term. Col. Barnum was an experienced officer, having served with distinction as major of the 12th N. Y. infantry. The regiment left the state on Sept. 23d, 1862, for Wast ington, where it was immediately ordered to join Gen. McClellan army, and was assigned to the 3d brigade, 2nd (Geary's) division 12th corps, "in which command it, fought at Chancellorsville, l01 ing there 15 killed, 68 wounded and 103 captured or missing. A Gettysburg the regiment participated in the famous defense ( Culp's hill, made by Greene's brigade, in which the 149th, fighting behind breastworks, lost 6 killed, 46 wounded and 3 missing, but inflicted many times that loss on its assailants. With the 12th corps, it was transferred to the Army of the Cumberland and the Onondaga boys fought as bravely in Tennessee as in Virginia or at Gettysburg. At Lookout mountain, they captured 5 flags while fighting under Hooker in that memorable affair, their casual-amounting to 10 killed and 64 wounded. Before starting on the Atlanta campaign the 12th corps was designated the 2Oth, its com-mand being given to Gen. Hooker. The regiment started on the campaign with 380 fighting men, of whom 136 were killed or wound-ed before reaching Atlanta. Lieut.-Col. Randall, a gallant a: skillful officer, was killed at Peachtree creek, in which action the regiment sustained its heaviest loss on that campaign, its casua-ties there aggregating 17 killed, 25 wounded and 10 missing. The regiment, after marching with Sherman to the sea was active engaged in the siege of Savannah, and then marched through the Carolinas on the final campaign which ended in the surrender Johnston." (Fox, "Regimental Losses in the Civil War.") A list the important battles in which the regiment fought would include Chancellorsville, Gettysburg, Wauhatchie, Lookout mountain, Ring gold gap, Resaca, New Hope Church, Lost mountain, Kennesa mountain, Peachtree creek, Atlanta, Missionary ridge, Rocky Face ridge, Averasboro, Bentonville and Bennett's house. After the sur-render of Johnston, the regiment marched to Washington, when it took part in the grand review in May, and was mustered out on June 12, 1865, near Bladensburgh, Md., under Col. Grumbach. 1 149th had a total enrollment of 1,155, of whom 486 were killed a wounded. Of these 4 officers and 129 men—or 11.5 per cent.—were killed and mortally wounded; 78 died of disease and other causes total deaths, 211. The following men were awarded medals honor by the war department for the capture of battleflags at Look out mountain: 1st Sergt. Norman E. Potter, and privates Peter Kappesser and Phillip Goettel.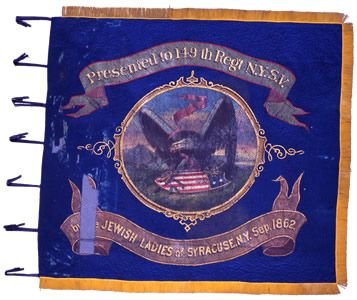 149th Regiment NY Volunteer Infantry | Regimental Color | Civil War
In October 1862, shortly after the 149th Regiment New York Volunteer Infantry left Syracuse for the seat of war, the Jewish Ladies of Syracuse…