149th Regiment NY Volunteer Infantry | Regimental Color | Civil War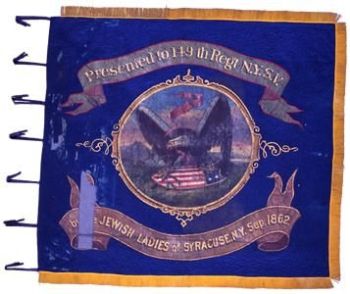 Flag dimensions: 77 1/4" hoist X 83 1/2" fly.
(2006.0312)
In October 1862, shortly after the 149th Regiment New York Volunteer Infantry left Syracuse for the seat of war, the Jewish Ladies of Syracuse presented this blue, silk Regimental Color to Colonel Henry Barnum who remained in Syracuse to convalesce from wounds received earlier in the war. The flag includes the Arms of the United States painted on one side and the Arms of the State of New York on the other side. Both sides include the same painted presentation inscription, "Presented to 149th Reg't N.Y.S.V. by the JEWISH LADIES of SYRACUSE, N.Y. Sep. 1862."