143rd Infantry Regiment
Nickname: Sullivan County Regiment
Mustered in: October 8, 1862
Mustered out: July 20, 1865
The following is taken from New York in the War of the Rebellion, 3rd ed. Frederick Phisterer. Albany: J. B. Lyon Company, 1912.
August 14, 1862, Mr. John C. Holley received authority to recruit this regiment in Sullivan county; it was organized at Monticello, with David P. DeWitt as Colonel, and there mustered in the service of the United States for three years October 8, 1862.
The companies were recruited principally: A at Monticello, Fremont, Bethel, Rock-land, Forestburg, Liberty and Beaver Kill; B at Bethel, Thompson, Fallsburg, Forest-burg and Stormsville; C at Fallsburg, Rockland, Grahamville and Neversink; D at Ithaca and Lansing; E at Wurtsborough, Bridgeville, Monticello and Phillipsport; F at Fremont, Callicoon, Jeffersonville, Rockland and Monticello; G at Fremont, Blooming-burg, Neversink, Monticello, Thompson, Cochecton and Tusten; H at Liberty, Monti-cello and Rockland; I at Dryden and Cochecton; K at Cochecton, Monticello, Tusten, Callicoon, Highland and Thompson.
The regiment left the State October 14, 1862; it served in the defenses of Washington in the 3d Brigade, Abercrombie's Division, from October 16, 1862; in the 22d Corps, from February, 1863; in 3d, Hughston's, Brigade, Gurney's Division, Department of Virginia, at Suffolk, Va., from April, 1863; in the 1st Brigade, Gordon's Division, of 7th Corps, from May, 1863; of 4th Corps from June, 1863; in the 1st Brigade, 3d Division, nth Corps, from July 14, 1863; in the 3d Brigade, 1st Division, 2Oth Corps, from April, 1864; in the 2d Brigade, Bartlett's Division, 22d Corps, from June 30, 1865; and, under Col. Horace Boughton, it was honorably discharged and mustered out July 20, 1865, at and near Washington, D. C.
During its service the regiment lost by death, killed in action, 3 officers, 13 enlisted men; of wounds received in action, 2 officers, 25 enlisted men; of disease and other causes, 1 officer, 177 enlisted men; total, 6 officers, 215 enlisted men; aggregate, 221; of whom 3 enlisted men died in the hands of the enemy, the large loss by accident (9), was principally caused by a railroad accident March 20, 1863.
The following is taken from The Union army: a history of military affairs in the loyal states, 1861-65 -- records of the regiments in the Union army -- cyclopedia of battles -- memoirs of commanders and soldiers. Madison, WI: Federal Pub. Co., 1908. volume II.
One Hundred and Forty-third Infantry.—Cols., David P. De-Witt, Horace Boughton; Lieut.-Cols., Horace Boughton, Joseph B. Taft, Hezekiah Watkins; Majs., Joseph B. Taft, Hezekiah Wat-kins, John Higgins, Edward H. Pinney. This regiment, recruited in the counties of Sullivan and Tompkins, was organized at Mon-ticello, and there mustered into the U. S. service for a three years' term on Oct. 8, 1862. Col. DeWitt was formerly in command of the 3d Maryland regiment. The 143d left the state on Oct. 14, proceeded to Washington and remained on duty in the defenses of the capital until April, 1863, when it. was ordered to the Department of Virginia. Here it participated in the defense of Suffolk, in the 3d (Hughston's) brigade, Gurney's division, and then took part in the operations against Richmond with Gordon's division. After the battle of Gettysburg it was transferred to the Army of the Potomac, and placed in the 1st brigade, 3d (Schurz's) division, nth corps. It accompanied the nth and 12th corps to Tennessee in September, joined Grant's army at Chattanooga and the following month took part in the midnight battle at Wauhatchie, Tenn., losing 6 killed and wounded. Lieut.-Col. Taft was killed in the action at Missionary ridge in November, after which the regiment was ordered to the relief of Knoxville, a most trying and arduous campaign. When the new 20th corps was formed in April, 1864, the 143d was assigned to 3d brigade (Robinson's), 1st division (Williams') of that corps, and fought under Sherman in all the battles and campaigns in which the 20th corps was engaged from Chattanooga to Raleigh. During this period of almost a year the regiment sustained casualties amounting to 176 killed, wounded and missing, its heaviest losses being incurred at Kennesaw mountain where 76 were killed, wounded and missing, and at Peachtree creek where the loss was 48 killed and wounded. Lieut. Edward Car-rington, a splendid soldier, was killed March 6, 1865, at Natural Bridge, Fla., while serving on the staff of Gen. Newton. After Johnston's surrender the regiment marched to Washington, where it took part in the grand review, and was there mustered out or July 20, 1865. It returned home under command of Col. Bough-ton, who was soon after commissioned brigadier-general. The loss of the regiment during service was 5 officers and 38 men killed and mortally wounded; I officer and 177 men died of disease and other causes; 9 men were killed in a railroad accident March 20, 1863 total deaths, 221.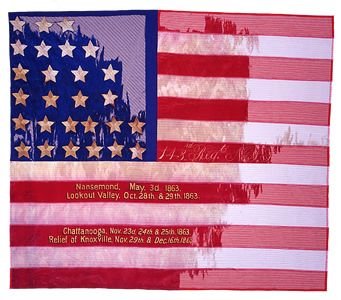 143rd Regiment NY Volunteer Infantry | National Color | Civil War
On October 9, 1862, at Camp Holley, near Monticello, New York, the 143rd New York Volunteer Infantry received a stand of colors, including the…