143rd Regiment NY Volunteer Infantry | National Color | Civil War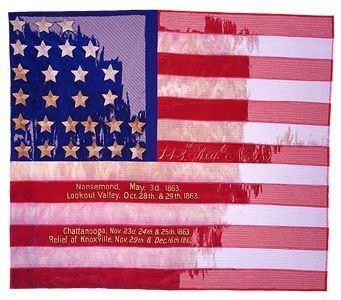 Flag dimensions: 71 1/2" hoist X 82 3/4" fly.
(1995.3708)
On October 9, 1862, at Camp Holley, near Monticello, New York, the 143rd New York Volunteer Infantry received a stand of colors, including the national color seen here, from the patriotic citizens of Sullivan County. Made by Tiffany & o. of New York City and carried on campaign until December 1863, the flag includes the regiment's numeric designation embroidered in the enter stripe and painted battle honors, added later, commemorating the regiment's service throughout 1863. The national color carried by the 143rd New York Volunteer Infantry includes 27 embroidered stars from an original 34-star pattern. There are additional losses, mostly at the fly end. In 1972 a flag restorer sandwiched the flag between nylon net.