134th Infantry Regiment
Mustered in: September 22, 1862
Mustered out: June 10, 1865
The following is taken from New York in the War of the Rebellion, 3rd ed. Frederick Phisterer. Albany: J. B. Lyon Company, 1912.
The Hon. George E. Danforth received authority, July 9, 1862, to recruit this -regiment in the counties of Delaware, Schenectady and Schoharie; it was organized at Schoharie and there mustered in the service of the United States for three years September 22 and 23, 1862. June 5, 1865, the men not to be mustered out with the regiment were transferred to the I02d Infantry.
The companies were recruited principally: A, B and F at Schenectady; C and K at 'Schoharie; D at Middleburg, Fulton and Broome; E at Blenheim, Gilboa, Broome, Jefferson, Conesville and Summit; G at Cobleskill, Richmondville, Sharon, Seward and Gilboa; H at Schenectady and Duanesburg; I at Schenectady, Fulton, Conesville, Wright, Broome, Duanesburg, Gilboa, Middleburg and Glen.
The regiment left the State, under the command of Lieut-Col. J. S. DeAgreda, September 25, 1862; it served in the 2d Brigade, 2d Division, nth Corps, from October, 1862; in the 1st Brigade, 2d Division, nth Corps, from May, 1863; on detached service at Alexandria, Va., in August, 1863; in 2d Brigade, 2d Division, 2oth Corps, from April, 1864, and, commanded by Col. Allan H. Jackson, it was honorably discharged and mustered out June 10, 1865, near Bladensburg, Md.
During its service the regiment lost by death, killed in action, 4 officers, 59 enlisted men; of wounds received in action, 1officer, 25 enlisted men; of disease and other causes.
The following is taken from The Union army: a history of military affairs in the loyal states, 1861-65 -- records of the regiments in the Union army -- cyclopedia of battles -- memoirs of commanders and soldiers. Madison, WI: Federal Pub. Co., 1908. volume II.
One Hundred and Thirty-fourth Infantry.—Cols., George E. Danforth, Charles E. Coster, Allan H. Jackson; Lieut.-Cols., Joseph S. DeAgreda, Allan H. Jackson, Reuben B. Heacock, Clinton C. Brown, William H. Hoyt; Majs., George W. B. Seelye, Allan H. Jackson, Edward W. Groot (declined), Gilbert H. Kennedy, William H. Hoyt, P. E. McMaster. This regiment, recruited in the counties of Schoharie, Schenectady and Delaware, was organized at Schoharie and there mustered into the U. S. service for three years on Sept. 22-23, 1862. It left the state on the 25th and was at once attached to the 2nd brigade, 2nd (Von Steinwehr's) division, nth corps, which in December marched to Fredericksburg in support of Burnside, but the 134th was not in the battle. It then went into winter quarters at Stafford, Va. As part of the 1st brigade, same division and corps, it lost 8 wounded and missing at Chancellorsville. The regiment was heavily engaged at Gettysburg, in the battle of the first day, and in the gallant defense of Cemetery hill on the second day, meeting with a loss of 42 killed, 151 wounded and 59 missing, a total of 252 put of 400 in action. After the battle it accompanied the army on its return to Virginia and in August was on detached service at Alexandria, Va. In Sept., 1863, it was ordered to Tennessee with the 11th and 12th corps, and the following month was in reserve at the midnight battle of Wauhatchie, Tenn. During the Chattanooga-Ringgold campaign it was slightly engaged at Missionary ridge, losing 8 wounded and missing. It was then ordered to the relief of Knox-ville, and in April, 1864, was attached to the 2nd brigade, 2nd (Geary's) division, of the newly formed 20th corps, with which it served in the Atlanta campaign. It fought its first battle of the campaign at Rocky Face ridge, where its casualties were 36 in killed and wounded. It was then in the battles of Resaca, Dallas, Kennesaw mountain, Pine mountain, Golgotha, Kolb's farm, Marietta, Chattahoochee river, Peachtree creek and Atlanta. At Peach-tree creek the regiment lost 44 killed, wounded and missing. After the fall of Atlanta it remained there until Nov., 1864, when it started on the march to the sea, fighting at Sandersville and Greensboro, and sharing with a loss of 13 in the siege of Savannah, Geary's division being the first to enter the city on its evacuation by Hardee. Early in 1865, it moved on its final campaign—through the Carolinas—which ended with Johnston's surrender, then marched with the corps to Washington, where it took part in the grand review, and was mustered out at Bladensburg, Md., under Col. Jackson, June 10, 1865. The regiment lost during service, 5 officers and 84 men killed and mortally wounded; 3 officers and 91 men died of disease and other causes, a total of 183.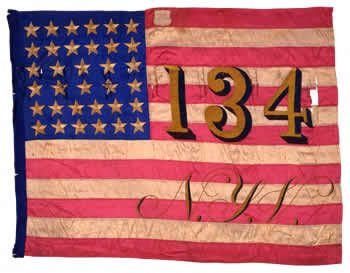 134th Regiment NY Volunteer Infantry | General Guide Flags | Civil War
The New York State Battle Flag Collection includes two silk general guide flags carried by the 134th Regiment NY Volunteer Infantry. Both flags, in…