134th Regiment NY Volunteer Infantry | General Guide Flags | Civil War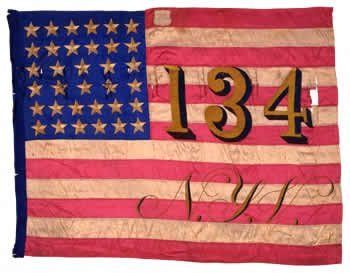 Flag dimensions: 19 1/4" hoist X 25" fly.
(2001.0047)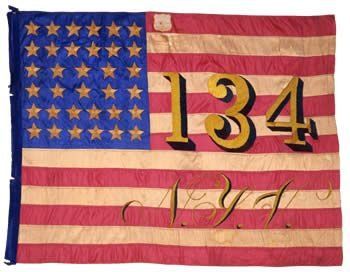 Flag dimensions: 18 1/2" hoist X 24 1/4" fly.
(2001.0071)
The New York State Battle Flag Collection includes two silk general guide flags carried by the 134th Regiment NY Volunteer Infantry. Both flags, in the US National pattern, include 34 embroidered white stars in six horizontal rows (6-6-5-5-6-6) and the regiment's numeric designation with state affiliation, "N.Y.V.," embroidered in yellow with shadow effects. On May 2, 1863, at the battle of Chancellorsville, the Confederates captured the two guide flags. The captor later presented the guide flags to a medical doctor in Lexington, Virginia. The doctor retained the flags until late 1865 when he surrendered them to Major General N.M Curtis, Commander of the Southwest District of Virginia. General Curtis forwarded the two guide flags to General William Irvine, The Adjutant General, State of New York, who deposited them in the Battle Flag Collection on December 18, 1865.