123rd Infantry Regiment
Nickname: Washington County Regiment
Mustered in: September 4, 1862
Mustered out: June 8, 1865
The following is taken from New York in the War of the Rebellion, 3rd ed. Frederick Phisterer. Albany: J. B. Lyon Company, 1912.
Colonel Archibald L. McDougall received authority, July 23, 1862, to recruit this regiment; it was organized at Salem, and there mustered in the service of the United States for three years September 4, 1862. December 23, 1863, part of the 145th Infantry was transferred to it. June 8, 1865, the men not to be mustered out with the regiment were transferred to the 60th Infantry.
The companies were recruited principally: A at Greenwich; B at Kingsbury; C at Whitehall; D at Fort Ann, Putnam and Dresden; E at Hartford and Hebron; F at Argyle and Greenwich; G at White Creek, Jackson, Greenwich and Salem; H at Salem, Shushan, Greenwich, Hartford and Hebron; I at Easton, Cambridge, Hartford and Hebron, and K at Granville and Hampton.
The regiment left the State September 5, 1862; it served in the 2d Brigade, 1st Division, 12th Corps, from September, 1862; in the 1st Brigade, 1st Division, 12th Corps, from May, 1863; in the 1st Brigade, 1st Division, 20th Corps, from April, 1864; and, commanded by Col. James C. Rogers, it was honorably discharged and mustered out June 8, 1865, near Washington, D. C.
During its service the regiment lost by death, killed in action, 2 officers, 40 enlisted men; of wounds received in action, 4 officers, 28 enlisted men; of disease and other causes, 95 enlisted men; total, 6 officers, 163 enlisted men; aggregate, 169; of whom 4 enlisted men died in the hands of the enemy.
The following is taken from The Union army: a history of military affairs in the loyal states, 1861-65 -- records of the regiments in the Union army -- cyclopedia of battles -- memoirs of commanders and soldiers. Madison, WI: Federal Pub. Co., 1908. volume II.
One Hundred and Twenty-third Infantry.—Cols., Archibald L. McDougall, Ambrose Stevens, James C. Rogers; Lieut.-Cols., Franklin Norton, James C. Rogers, Adolph H. Tanner; Majs., James C. Rogers, A. H. Tanner, Henry Gray. This regiment, recruited in the county of Washington, rendezvoused at Salem and was there mustered into the U. S. service on Sept. 4, 1862, for three years. In Dec., 1863 a portion of the 145th N. Y. was transferred to it. The regiment left the state on Sept. 5, 1862, and was assigned to Williams' (1st) division, 12th corps, with which it served throughout its term. It fought its first battle at Chancellorsyille, where the 12th corps was heavily engaged, the regiment losing 148 killed, wounded and missing, Lieut.-Col. Norton being among the mortally wounded. The 123d was only slightly engaged at Gettysburg, where it lost 14. It joined in the pursuit of Lee into Virginia, fought without loss at Fair Play and Williamsport, Md., and at Robertson's ford, Va. On Sept. 23, 1863, it was ordered with its corps to Tennessee to reinforce Gen. Rosecrans and performed guard and picket duty for several months along the railroad between Murffeesboro and Bridgeport. When the 12th corps was changed to the 20th in April, 1864, Williams' division was allowed to retain its distinctive badge, the red star. It started on the Atlanta campaign with Sherman's army early in May and was active during the battles of Resaca, Cassville and Dallas, where it lost 23 killed and wounded, among the mortally wounded being Col, McDougall. Its losses at Kennesaw mountain aggregated 63 killed, wounded and missing, and at Peachtree creek, 53. From July 21 to Aug. 26, it was engaged in the siege of Atlanta, and on Nov. 15, it moved with Sherman's army on the march to the sea, taking part in the final campaign of the Carolinas the following year. During this campaign it was engaged at Chesterfield, Averasboro, Bentonville, Aiken, Smithfield, Raleigh and Bennett's house, with a total loss of 21 killed, wounded • and missing. After Gen. Johnston's surrender it marched to Washington with the army, participated in the grand review, and was finally mustered out, under command of Col. Rogers, June 8, 1865, when the members of the regiment not entitled to be mustered out were transferred to the 145th N. Y. The 123d lost during its term of service 6 officers and 68 enlisted men, killed and fatally wounded; 95 enlisted men died of disease and other causes; total deaths, 169.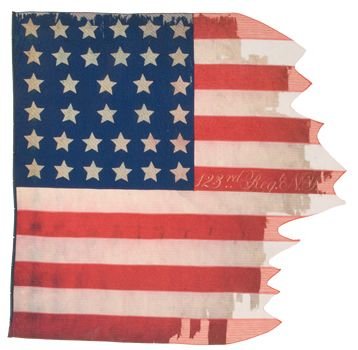 123rd Regiment NY Volunteer Infantry | National Color | Civil War
The 123rd New York Volunteers, recruited in Washington County, New York, mustered into service on September 4, 1862, at Camp Washington, Salem, New…