123rd Regiment NY Volunteer Infantry | National Color | Civil War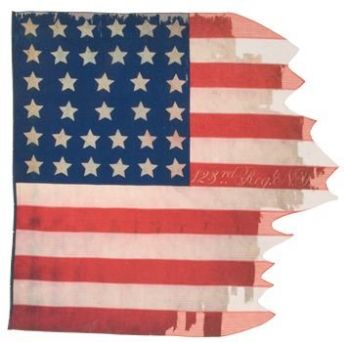 Flag dimensions: 70 1/2" hoist X 72" fly.
(2013.0047)
The 123rd New York Volunteers, recruited in Washington County, New York, mustered into service on September 4, 1862, at Camp Washington, Salem, New York. The "Washington County Regiment" received this national color from the ladies of Washington County at Camp Washington just before the regiment departed on September 5, 1862. This silk national color reportedly accompanied the 123rd New York Volunteers on campaign until 1865, including at the Battle of Chancellorsville, Virginia, May 1–3, 1863. During this battle, the regiment's first engagement, the color bearer laid aside the flag as the men retreated under heavy enemy fire. Luckily, a soldier in another Union regiment saved the flag and returned the banner to the 123rd New York Volunteers. The flag would later lead the regiment in subsequent battles, including during Major General William Tecumseh Sherman's 1864 Atlanta Campaign and "March to the Sea." During the Atlanta Campaign, Color Sergeant William Hutton received a mortal wound while carrying the flag at Peach Tree Creek, Georgia, on July 20, 1864. This flag includes 34 stars reverse appliquéd in the canton and the unit's designation embroidered in the center stripe. In 1965, a restorer sandwiched the flag between color-matched nylon net and then secured the net to the flag with closely spaced rows of machine zigzag stitching. She also cut the netting to follow the flag's jagged fly edge, rather than creating a straight fly edge.