117th Infantry Regiment
Nickname: Fourth Oneida Regiment
Mustered in: August 8, 1862
Mustered out: June 8, 1865
The following is taken from New York in the War of the Rebellion, 3rd ed. Frederick Phisterer. Albany: J. B. Lyon Company, 1912.
Colonel W. R. Pease received authority, July 19, 1862, to recruit this regiment in Oneida county; it was organized at Rome, and there mustered in the service of the United States for three years August 8 to 16, 1862. The men not to be mustered out with the regiment were transferred, June 8, 1865, to the 48th Infantry.
The companies were recruited principally: A at Rome, Utica and Vernon; B at Utica, Camden, Verona and Vienna; C at Utica, Westmoreland, Rome and Bridgewater; D at Whitestown, Sangerfield, Utica, Vienna and New Hartford; E at Rome; F at Oriskany, Trenton, Utica, Floyd, Rome, Steuben and Deerfield; G at Rome, Clayville, Paris and Utica; H at Utica, Vienna, Rome and Camden; I at Rome, Boonville, Ava, Utica, Western and Clayville; and K at Clinton, Remsen, Augusta, Boonville, Deansville, Marshall and Vernon.
The regiment left the State August 22, 1862; served in 2d and 3d Brigades, a battalion in each, defenses of Washington, D. C., north of Potomac, from August 25, 1862; in the defenses of Washington, 3d Brigade, Haskins' Division, 22d Corps, from January, 1863; in the 1st Brigade, 3d Division, 9th Corps, from February, 1863; in the 1st Brigade, Getty's Division, 7th Corps, Department of Virginia, from April, 1863; in Alford's Brigade, l8th Corps, Department of the South, from July, 1863; in Vogdes' Division, 10th Corps, at Folly Island and Little Folly Island, S. C., from October, 1863; in 1st Brigade, 2d Division, 10th Corps, Army of the James, from April, 1864; in 3d Brigade, 3d Division-, 18th Corps, from May 30, 1864; in 1st Brigade, 2d Division, 10th Corps, from June 15, 1864; in same brigade and division of the 24th Corps, from December, 1864; in the same of the Provisional Corps, from March, 1865; and of the 10th Corps, from April 2, 1865; and it was honorably discharged and mustered out, under Col. Rufus Daggett, June 8, 1865, at Raleigh, N. C.
During its service the regiment lost by death, killed in action, 5 officers, 75 enlisted men; of wounds received in action, 3 officers, 54 enlisted men; of disease and other causes, 1 officer, 136 enlisted men; total, 9 officers, 265 enlisted men; aggregate, 274; of whom 21 enlisted men died in the hands of the enemy.
The following is taken from The Union army: a history of military affairs in the loyal states, 1861-65 -- records of the regiments in the Union army -- cyclopedia of battles -- memoirs of commanders and soldiers. Madison, WI: Federal Pub. Co., 1908. volume II.
One Hundred and Seventeenth Infantry.—Cols., William R. Pease, Alvin White, Rufus Daggett; Lieut-Cols., Alvin White, Rufus Daggett, Francis X. Meyer; Majs., Rufus Daggett, Francis X. Meyer, Egbert Bagg. This regiment, recruited in Oneida county in the summer of 1862, rendezvoused at Rome, where it was mustered into the U. S. service from Aug. 8 to 16, for three years, and left the state on Aug. 22. It was stationed at Tenallytown, Md., until April, 1863, when it was ordered to Suffolk, Va., in the 1st brigade, Getty's division, 7th corps, and subsequently participated in the Peninsular campaign of 1863. It was then ordered to join the 18th corps (the 7th corps having been discontinued), Department of the South; later joined Vogdes' division, loth corps, on Folly island, S. C.; and took part in the siege of Fort Wagner and the operations about Charleston harbor. In April, 1864, the regiment was ordered to Virginia, where it joined Gen. Butler's Army of the James, being assigned to 1st brigade, 2nd division, 10th corps. Sailing up the James river, it disembarked at Bermuda Hundred and was engaged at Swift creek, Drewry's bluff and Bermuda Hundred, losing 20 killed, 62 wounded, and 7 missing at Drewry's bluff. Col. White being among the wounded. While at Cold Harbor it was temporarily attached to the 18th corps, but on its return to the James rejoined the 10th corps, and soon after took part in the initial assault on the works of Petersburg, losing 54 in killed, wounded and missing. It was present at the mine ex- plosion, and then recrossing the James fought gallantly at the battle of Fort Harrison, losing 15 killed, 76 wounded and 33 missing. [n the 1st (Curtis') brigade, 2nd (Foster's) division, it was heavily engaged on the Darbytown road, in October, losing 6 killed, 42 wounded, and 4 missing. When the l0th corps was discontinued in Dec., 1864, Curtis' brigade was placed in Ames' (2nd) division, 24th corps, with which the regiment sailed in Butler's expedition o Fort Fisher, N. C., where Cos. B and H captured 230 men of the 10th N. C. reserves during a reconnoissance. Reembarking, the troops returned to Virginia, but were at once ordered back to Fort Fisher, the second expedition being commanded by Gen. Terry. The 117th took a conspicuous and highly honorable part in the final assault on Fort Fisher, sustaining a loss of 92 in killed and wounded. During February it was in the actions at Cape Fear river, Fort Anderson and Wilmington, and in March and April, as part of the provisional corps, it engaged in Gen. Terry's Carolina campaign, which closed at the Bennett house on April 26. The regiment remained on duty at Raleigh, N. C., until June 8, 1865, when it was mustered out under command of Col. Daggett. About 250 recruits and reenlisted men were transferred to the 48th N. Y. During its term of service the regiment lost by death 9 officers and 129 enlisted men killed and mortally wounded; I officer and 136 enlisted men by disease and other causes, a total of 274, of whom 21 died in the hands of the enemy.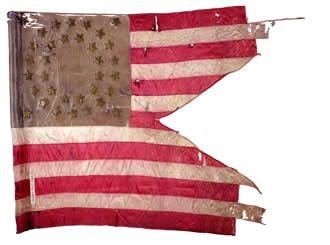 117th Regiment NY Volunteer Infantry | Guidons | Civil War
The NYS Battle Flag Collection includes two silk swallowtail guidons carried by the 117th Regiment New York Volunteer Infantry. Each guidon conforms…