114th Infantry Regiment
Mustered in: September 3, 1862
Mustered out: June 8, 1865.
The following is taken from New York in the War of the Rebellion, 3rd ed. Frederick Phisterer. Albany: J. B. Lyon Company, 1912.
July 21, 1862, Mr. Elisha B. Smith, of Chenango, was appointed Colonel and authorized to recruit this regiment in the counties of Chenango, Cortland and Madison, with headquarters at Norwich, where the regiment was organized, and, September 3, 1862, mustered in the service of the United States for three years. The men not to be mustered out with the regiment were transferred, June 3, 1865, to the 90th Infantry.
The companies were recruited principally: A and H at Oxford; B and C at Norwich ; D at Eaton and Lebanon; E at Greene; F at Sherburne and New Berlin; G at Hamilton and Brookfield; I at Otselic; and K at Cazenovia; and a few men were enlisted in Cortland county.
The regiment left the State September 8, 1862; it served at and near Baltimore, Md., in 8th Corps, from September 9, 1862; at Newport News, Norfolk and Fort Monroe, Va., 7th Corps, from November 9, 1862; sailed in Banks' Louisiana forces from December 4, 1862; served in 2d Brigade, 1st Division, 19th Corps, from January, 1863, but mostly detached from it at Brashear City, New Iberia, Opelousas and Berwick City, La.; before Port Hudson, La., with its brigade from May 31, 1863; in the Reserve Brigade, 1st Division, 19th Corps, from August, 1863; in 3d Brigade, 1st Division, 19th Corps, from September, 1863; in 1st Brigade, same division and corps, from February, 1864; and it was honorably discharged and mustered out, under Col. Samuel R. Per Lee, June 8, 1865, near Washington, D. C.
During its service the regiment lost by death, killed in action, 4 officers, 64 enlisted men; of wounds received in action, 5 officers, 50 enlisted men; of disease and other causes, 2 officers, 168 enlisted men; total, 11 officers, 282 enlisted men; aggregate, 293; of whom 8 enlisted men died in the hands of the enemy.
The following is taken from The Union army: a history of military affairs in the loyal states, 1861-65 -- records of the regiments in the Union army -- cyclopedia of battles -- memoirs of commanders and soldiers. Madison, WI: Federal Pub. Co., 1908. volume II.
One Hundred and Fourteenth Infantry.—Cols., Elisha B. Smith, Samuel R. Per Lee; Lieut.-Cols., Samuel R. Per Lee, Henry B. Morse; Majs., Henry B. Morse, Oscar H. Curtiss. Seven companies of this regiment were recruited in Chenango county and three in Madison. They rendezvoused at Norwich, where the regiment was organized, and mustered into the U. S. service for three years, Sept. 3, 1862. Three days later it started for the front, moving to Binghamton by canal boats, and proceeding thence to Baltimore. In November it sailed for New Orleans as part of Banks' expedition, and on its arrival there was assigned to Weitzel's (2nd) brigade, Augur's (1st) division, 19th corps. It was stationed for a time at Brashear City and neighboring points, and was first engaged at Fort Bisland, where it had 11 men wounded, 3 mortally. It did not participate in the Bayou Teche campaign, but joined its corps before Port Hudson, May 30, 1863, where it was actively engaged for 40 days in the siege and suffered severely in the grand assault of June 14. The loss of the regiment during the siege was 73 in killed, wounded and missing. In March, 1864, in Dwight's (1st) brigade, Emory's (1st) division, 19th corps, it moved on Banks' Red River campaign, engaging at Sabine cross-roads, where Lieut.-Col. Morse, commanding the regiment, was wounded, at Pleasant Hill, Cane river crossing and Mansura. On July 15, it embarked for Washington, the corps having been ordered to Virginia. On its arrival, it marched through Maryland, and then joined in Sheridan's famous Shenandoah campaign against Early. The regiment fought with the utmost gallantry at the battle of the Opequan, where it was subjected to a murderous fire, losing 188 killed and wounded, or three-fifths of those engaged, and being complimented for gallantry by the division-general. It was present at Fisher's hill and Woodstock, and again showed its splendid fighting qualities at Cedar creek, with a loss of 21 killed, 86 wounded, and 8 missing. Col. Per Lee was among the wounded at the Opequan, and was promoted for gallantry to brevet brigadier-general. The regiment was mustered out, under Col. Per Lee, June 8, 1865, at Bladensburgh, Md. Its total enrollment during service was 1,134, of whom 9 officers and 114 men were killed and mortally wounded; 2 officers and 192 men died of disease and other causes; total deaths 317. Its loss in killed and wounded was 422, or 10.6 per cent. Its proud record entitles it to rank among the three hundred fighting regiments of the war.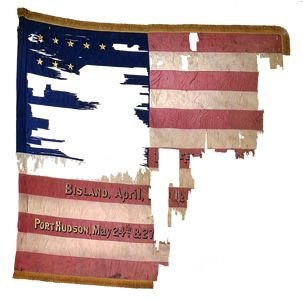 114th Regiment NY Volunteer Infantry | National Color | Civil War
Approximately 40-50% of this silk national color carried by the 114th Regiment NY Volunteer Infantry is lost, mainly from the lower fly quadrant and…