57th New York Infantry Regiment's Monument at Gettysburg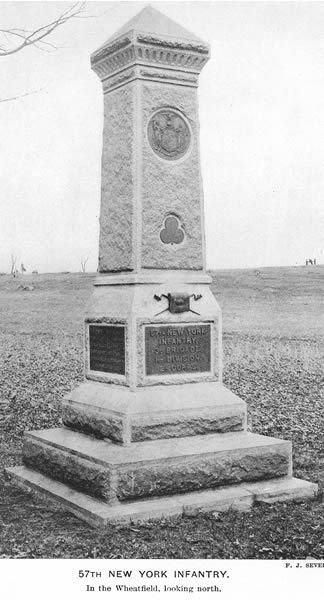 Taken from Final Report on the Battlefield of Gettysburg (New York at Gettysburg) by the New York Monuments Commission for the Battlefields of Gettysburg and Chattanooga. Albany, NY: J.B. Lyon Company, 1902.
INSCRIPTIONS
Front - 57TH NEW YORK INFANTRY, 3D BRIGADE, 1ST DIVISION, 2D CORPS.
Reverse - ENGAGED THE ENEMY HERE JULY 2, 1863. JULY 3, ON CEMETERY RIDGE, RESISTING PICKETT'S ATTACK. TOTAL NUMBER ENGAGED, 175. KILLED 4 WOUNDED 28 MISSING 2.
Left Side YORKTOWN FAIR OAKS GAINES' MILL, PEACH ORCHARD, SAVAGE STATION, WHITE OAK SWAMP, MALVERN HILL, ANTIETAM, FREDERICKSBURG, CHANCELLORSVILLE.
Right Side GETTYSBURG, MINE RUN, AUBURN HILL, BRISTOE STATION, WILDERNESS, TODD'S TAVERN, COLD HARBOR, PETERSBURG, DEEP BOTTOM, REAMS' STATION.