54th Infantry Regiment
Nickname: Hiram Barney Rifles; Barney Black Rifles; Schwarze Yaeger
Mustered in: September 5 to October 16, 1861
Mustered out: April 14, 1866
The following is taken from New York in the War of the Rebellion, 3rd ed. Frederick Phisterer. Albany: J. B. Lyon Company, 1912.
Colonel Eugene A. Kozlay received authority from the War Department, August 30, 1861, to recruit a regiment of infantry. This regiment received its numerical designation October 15, 1861; was recruited principally in Brooklyn and New York city of Germans; received one company of the McClellan Infantry, Col. S. Levy; was organized in camp near Hudson City, N. J., and there mustered in the service of the United States for three years, between September 5 and October 16, 1861. At the expiration of its term the men entitled thereto were discharged and the regiment retained in service. June 22, 1865, the men of the I27th and 157th Infantry, not mustered out with their regiments, were transferred to it.
The regiment left the State October 29, 1861; served in Provisional Brigade, Casey's Division, Army of the Potomac, from October, 1861; in Steinwehr's Brigade, Blenker's Division, Army of the Potomac, from December, 1861; in 1st Brigade, same division, Mountain Department, from April, 1862; in 2d Brigade, 3d Division, 1st Corps, Army of Virginia, from June 26, 1862; in 1st Brigade, 1st Division, 11th Corps, Army of the Potomac, from September 12, 1862; in the Department of the South, 1st Brigade, Gordon's Division, 10th Corps, on Folly Island, S. C., from August, 1863; in Schimmelpfenning's Division, 10th Corps, from January, 1864; on Morris Island in February, 1865; at Charleston, S. C., from March, 1865; and it was honorably discharged and mustered out, under Colonel Kozlay, April 14, 1866, at Charleston, S. C.
During its service the regiment lost by death, killed in action, 2 officers, 29 enlisted men; of wounds received in action, 14 enlisted men; of disease and other causes, I officer, 101 enlisted men; total, 3 officers, 144 enlisted men; aggregate, 147; of whom 26 enlisted men died in the hands of the enemy.
The following is taken from The Union army: a history of military affairs in the loyal states, 1861-65 -- records of the regiments in the Union army -- cyclopedia of battles -- memoirs of commanders and soldiers. Madison, WI: Federal Pub. Co., 1908. volume II.
Fifty-fourth Infantry.—Col., Eugene A. Kozlay; Lieut.-Cols., Alexander Hock, William P. Wainwright, Stephen Kovacs, Charles Ashby, Bankson Taylor Morgan; Maj., Louis Von Litrow, Charles Ashby, Stephen Kovacs. The 54th, the "Barney Black Rifles," was composed of men of German origin, recruited in New York city and Brooklyn, and one company of the McClellan infantry. It was mustered into the U. S. service at Hudson City, N. J., Sept. 5 to Oct. 16, 1861, for a three years' term, and left for Washington Oct. 29. It was assigned to the provisional brigade of Casey's division, with which it served until December, when it became a part of Steinwehr's brigade, Blenker's division. It served in the vicinity of Washington until April, 1862, when Blenker's division was ordered to Virginia and assigned to Gen. Fremont's command. The 54th belonged to the 1st brigade and was employed in the region near Strasburg until June 8, when it took an active part in the battle of Cross Keys. On June 26, 1862, the regiment became a part of the 2nd brigade, 3d division, 1st corps, Army of Virginia, and on the 29th of the same month Gen. Sigel took command of the forces formerly commanded by Fremont. During Gen. Pope's campaign the regiment rendered effective service at Fox's ford, Sulphur Springs, at Waterloo Bridge, Groveton and Manassas. The 1st corps became the 11th on Sept. 12, 1862, and the 54th was assigned to the 1st brigade, 1st division, with which it went into winter quarters at Stafford, Va. Camp was broken late in April, 1863, for the Chancellorsville campaign, in which the regiment lost 42 in killed, wounded and missing. After a short rest near Falmouth the march to Gettysburg was commenced. It was in action on July I, and on the 2nd was posted on Cemetery hill. The loss of the 54th was 102 killed, wounded or missing. Camp was occupied near Ha-gerstown, Md., until Aug. 7, when the division was ordered to Charleston harbor and there assigned to the 10th corps, in which the 54th served in the 1st brigade of Gordon's division. It was stationed on Folly island; participated in the siege of Fort Wagner; the bombardment of Fort Sumter; and remained in that vicinity during the winter of 1863-64. At this time a sufficient number of the command reenlisted to secure its continuance in the field as a veteran organization and in the summer of 1864 was posted on James island, where it was actively engaged in July with a loss of 20. In March, 1865, it left this post to enter Charleston, where it received on June 22 the veterans and recruits of the 127th and 157th N. Y., and remained until April, 1866. It was mustered out at Charleston April 14, 1866, having served nearly five years and lost during this period 40 by death from wounds and 102 by death from accident, disease or imprisonment.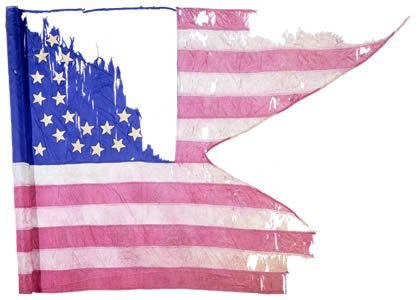 54th Regiment NY Volunteer Infantry | Guidon | Civil War
This silk swallowtail guidon, used as a marker to assist in battlefield maneuvers, conforms to the "stars and stripes" pattern described in General…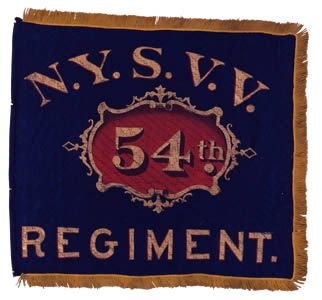 54th Regiment NY Volunteer Infantry | Flank Markers | Civil War
The 54th Regiment NY Volunteer Infantry, or "Schwarze Yaeger," mustered into service for three years between September 5 and October 15, 1861. When…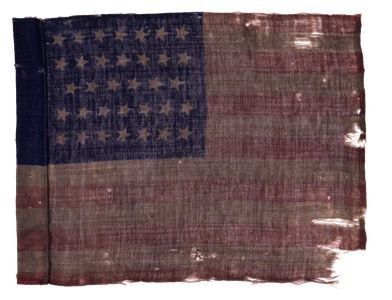 54th Regiment NY Volunteer Infantry | Camp Color | Civil War
This printed wool camp color in the U.S. National pattern conforms to General Order No. 4, Headquarters of the U.S. Army, dated 18 January 1862. The…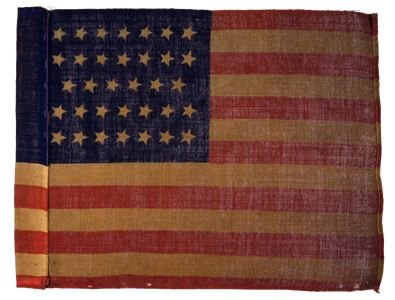 54th Regiment NY Volunteer Infantry | Camp Color | Civil War
This printed wool camp color in the U.S. National pattern conforms to General Order No. 4, Headquarters of the U.S. Army, dated 18 January 1862. The…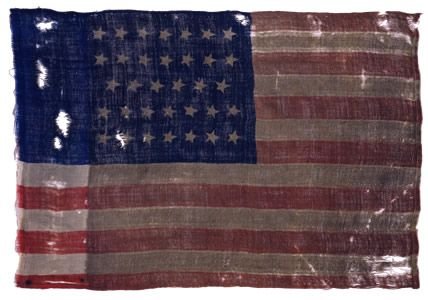 54th Regiment NY Volunteer Infantry | Camp Color | Civil War
This printed wool camp color in the U.S. National pattern conforms to General Order No. 4, Headquarters of the U.S. Army, dated 18 January 1862. The…