54th Regiment NY Volunteer Infantry | Camp Color | Civil War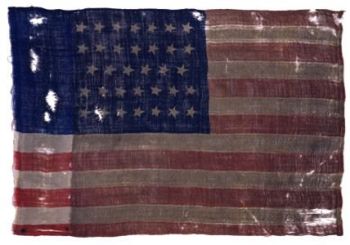 Flag dimensions: 18 1/2" hoist X 27" fly.
(2001.0106)
This printed wool camp color in the U.S. National pattern conforms to General Order No. 4, Headquarters of the U.S. Army, dated 18 January 1862. The stars are arranged in five horizontal rows with seven stars in each of the upper two and bottom two rows while the indented middle row includes only six stars. When constructed, the wool was rolled along the hoist edge and stitched to form a staff sleeve. The staff sleeve for this camp color is no longer stitched.