Pvt. Isaac B. Campbell Company F 4th Cavalry Civil War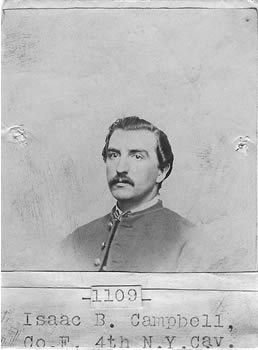 Some biographical Information on Isaac B. Campbell, Private 4th New York Cavalry submitted by Robert Moran:
Isaac Brinkerhoff Campbell was born on June 19th 1838 in Ulysses, New York. He had a brother, Alfred Campbell, who was born in 1836 and later served with Co. I of the 32nd NY Infantry from 1861- 1863. Isaac grew up in the Trumansburg, NY and was an apprentice in the carriage trade before he went to sea in 1858.
Isaac spent fours year at sea working on a whaling ship in the South Atlantic out of New Bedford, Mass. (1858-1862). In September of 1862 he joined the 4th NY Cavalry and was assigned to Company F. Isaac was described in the Company muster as being 5 ft. 6 inches tall with dark hair and blue eyes and weighing 173 pounds. He took part in the Battles of Kelly's Ford, Stoneman's Raid, Chancellorsville, and the Battle of Aldie, all in Virginia. He suffered saber wounds at Kelly's Ford and was shot in the chest at Aldie (June 17, 1863). After recuperating from the gunshot wounds at Hallowell Hospital in Alexandria, Va., he was transferred to the 116th Co. of the 2nd Battalion of the 18th Volunteer Reserve Corps stationed in the Washington D.C. area.
In early July 1864 he was on picket duty with five other soldiers at Beltsville, Maryland when General Jubal Early and his army attacked Washington D.C. He was captured with his comrades and sent to the Confederate Prison at Danville Va. Isaac was confined in a crowded tobacco warehouse that had no heat. He just barely survived the cold winter of 1864-65. Two the five soldiers he was captured with died from disease and the elements. He himself was so sick that he was given up for dead and dragged off to be buried. Fortunately, he was able to show some signs of life and was saved. An estimated 1,400 soldiers died at Danville during the winter of 1864-65.
In Isaac's words "I had the scurvy and was about starved. I was in bad shape. I had no coat or shoes and no blankets to lie under". He became deaf in one ear as result of "laying on the damp floor and suffering with the cold for want of clothing and covering and taking severe colds, apparently settling in my head". While in prison he had one shirt that he was never able to wash. Isaac would take it off daily and pick the lice from it. In the spring of 1865 he was exchanged for a rifle and was returned to the Union Army in an invalid state. When he was released from prison he weighed 78 pounds. Isaac's weight when he entered the army was 173 pounds. He was discharged from the army on July 7th, 1865.
Isaac was married after the Civil War to Olive Phillips and they had five children, one of which was my grandmother Olive Campbell Moran. They lived in Mansfield, Pa. where he was a life long member of the GAR. He died on June 24th, 1909.
Much of my information I have gathered about Isaac Campbell was gathered from his pension records and muster records in the National Archives in Washington D.C.
Mr. Moran also submitted these two photographs of Isaac Campbell: