Monument at Gettsburg
Taken from Final Report on the Battlefield of Gettysburg (New York at Gettysburg) by the New York Monuments Commission for the Battlefields of Gettysburg and Chattanooga. Albany, NY: J.B. Lyon Company, 1902.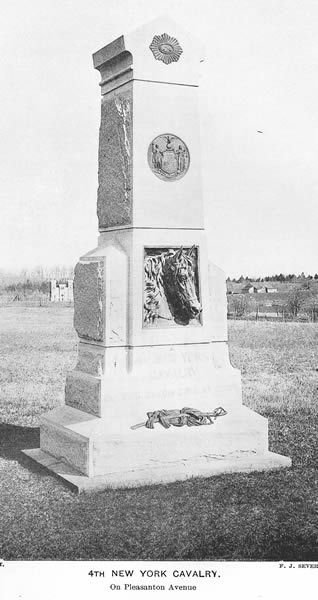 4th New York Cavalry
On Pleasanton Avenue
INSCRIPTIONS
Front - 4TH NEW -YORK CAVALRY 2ND BRIG. 2ND DIV. CAVALRY CORPS.
Reverse - THIS REGIMENT PARTICIPATED IN THE GETTYSBURG CAMPAIGN UNTIL REACHING HANOVER JUNCTION JUNE 30, WHEN WITH THE BRIGADE IT WAS DETACHED AND MOVED TO MANCHESTER, WHERE IT PICKETED THE SURROUNDING COUNTRY UNTIL JULY 3, WHEN IT PROCEEDED TO WESTMINISTER. ON THE 4TH, IT JOINED KILPATRICK'S DIVISION IN PURSUIT OF THE ENEMY AND WITH IT PARTICIPATED AT MONTEREY PASS THAT NIGHT AND IN THE MANY OTHER CAVALRY ENGAGEMENTS UNTIL THE ENEMY RECROSSED THE POTOMAC.