22nd Cavalry Regiment
Nickname: Rochester Cavalry
Left the State: March 8, 1864
Mustered out: August 1, 1865
The following is taken from New York in the War of the Rebellion, 3rd ed. Frederick Phisterer. Albany: J. B. Lyon Company, 1912.
September 24, 1863, Col. Samuel J. Crooks received authority to recruit a second regiment of cavalry. He recruited this regiment, organizing it for a service of three years, at Rochester, where its companies were mustered in the service of the United States, A December 20, 1863; B and C January 5; D, E and F January 10; G, H and I February 2; K, L and M February 6, 12 and 23, 1864, respectively.
The companies were recruited principally: A at Rochester, Penn Yan, Perrinton, Pen-field and Jerusalem; B at Syracuse, Rochester and Utica; C at Brockport, Rome, Riga, Churchville, Sweden and Rochester; D at Rochester, Lyons, Cuba and Lindon; E at Caze-novia, Madison, Manlius, Syracuse and Smithfield; F at Rochester, Albion, Barre and Dunkirk ; G at Bath, Avon, Urbana, Plattsburgh and Rochester; H at Syracuse, Arcadia, Sodus, Huron, Lyons and Palmyra; I at Rochester, Auburn, Syracuse and Seneca Falls; K at Rochester, Portland, Pomfret, Lenox, Smithfield and Dunkirk; L at Plymouth, Norwich, Otsego, Oxford, Middlefield, Greene, Unadilla and German; and M at Rochester, Oneida, Bath, Auburn and Utica.
The regiment left the State March 8, 1864, and served in the 9th Corps, at Alexandria, Va., from March, 1864; in the 4th Division, 9th Corps, from April, 1864; in the 2d Brigade, 3d Division, Cavalry Corps, Army of the Potomac, from May, 1864; unattached, Army of the Potomac, from May 8, 1864; with its brigade in June, 1864; with the Army of the Shenandoah from October, 1864, and in the Cavalry Division, Army of West Virginia, from February, 1865.
May 1, 1865, a detachment of recruits from the regiment was mustered out at Hart's island, New York harbor, and August 1, 1865, the regiment, commanded by Col. Horatio Blake Reed, was honorably discharged and mustered out at Winchester, Va.
During its service, the regiment lost by death, killed in action, 2 officers, 9 enlisted men; of wounds received in action, 1 officer, 13 enlisted men; of disease and other causes, I officer, 178 enlisted men; total, 4 officers, 200 enlisted men; aggregate, 204; of whom 87 enlisted men died in the hands of the enemy.
The following is taken from The Union army: a history of military affairs in the loyal states, 1861-65 -- records of the regiments in the Union army -- cyclopedia of battles -- memoirs of commanders and soldiers, Volume II: New York, Maryland, West Virginia and Ohio. Madison, WI: Federal Pub. Co., 1908.
Twenty-second Cavalry.—Cols., Samuel J. Crooks, George C. Cram, Horatio B. Reed; Lieut.-Cols., Johnson B. Brown, Horatio B. Reed, Peter McLennan; Majs., Peter McLennan, Benjamin Bennett, Charles C. Brown. Theodore Schlick, George R. French. The 22nd, known as the Rochester Cavalry, was organized at Rochester and there mustered into the U. S. service between Dec. 20, 1863, and Feb. 23, 1864, for three years. The companies of which it was composed were recruited in the counties of Monroe, Erie, Chautauqua, Livingston, Steuben, Onondaga, Orleans, Wayne, Chenango, Delaware and Otsego. Under command of Col. Reed it was honorably discharged and mustered out at Winchester, Va., Aug. i, 1865. The regiment left the state in March, 1864, and, considering the short time in the field, saw much hard fighting and sustained heavy losses. Its first service was with the 9th corps, after which it joined the 2nd brigade, 3d cavalry division. Army of the Potomac, for the Wilderness campaign. After Oct., 1864, it served with the Army of the Shenandoah in the campaigns in that valley, and from Feb., 1865, with the cavalry division. Army of West Virginia. It lost heavily at Spottsylvania, Cold Harbor, on Wilson's raid to the South Side and Danville railroads, and at the battle of Nineveh. It fought its final engagements at Fort Holly, New Market and Rude's hill, Va. Its casualties included 3 officers and 22 men killed, or died of wounds; 1 officer and 178 men died of disease, accidents and all other causes; total, 204. Of this number, 87 men died in prison. The regiment especially distinguished itself at Kearneysville, Dinwiddle Court House and White Oak swamp. Capt. Christopher Bruton, Corp. Henry Harvey and Pvt. George Ladd, who captured battleflags at Waynesboro, were awarded medals of honor by the secretary of war for distinguished gallantry on the field.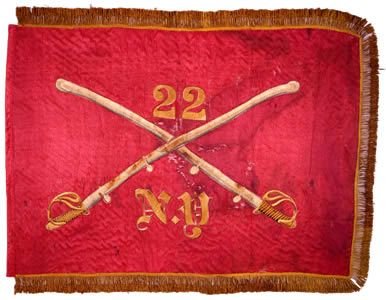 22nd Regiment Cavalry, NY Volunteers | Standard | Civil War
The 22nd Regiment Cavalry, NY Volunteers, reportedly received this red, silk standard while in winter quarters at Camp Russell, Virginia, in February…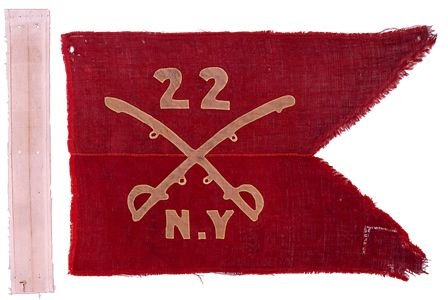 22nd Regiment Cavalry, NY Volunteers | Guidon | Civil War
This wool swallowtail guidon, made from two pieces of wool seamed along the horizontal center, features tan-colored, appliqued regimental designation…