34th Independent Battery Light Artillery
Nickname: Buffalo Light Artillery; Eaton's Battery; Hamilton Light Artillery
Battery L, 2nd regiment of artillery designated 34th independent battery: November 19,1863.
Mustered out: June 21, 1865.
The following is taken from New York in the War of the Rebellion, 34th ed. Frederick Phisterer. Albany: J. B. Lyon Company, 1912.
First Organization. July 25, 1863, Capt. Hermann Jahn received authority to recruit this battery. October 14, 1863, its organization was discontinued and the men enlisted transferred to the 15th Artillery, then organizing.
Second Organization: Hamilton Artillery; Flushing Battery (Veteran). Battery L, 2d Artillery, which had served detached from its regiment almost since it took the field, and as a light battery, was permanently detached from its regiment and designated the 34th Battery November 19, 1863, a majority of its members having re-enlisted in the field as veterans. Captain Thomas L. Robinson received from the War Department, July 25, 1861, authority to. recruit a battery of artillery. This battery was formed principally of members of the artillery company of the 15th Militia and recruited at Flushing, L. I. It was mustered in the service of the United States for three years November 28, 1861; assigned to the 2d Artillery, as Company L, December 5, 1861; and became the 34th Battery, as already stated. It left the State December 2, 1861, commanded by Captain Robinson, and served at and near Washington, D. C., from- December, 1861; in Sturgis' Brigade, Military Division of Washington, D. C., from May, 1862; in the 2d Brigade, 3d Division, 2d Corps, Army of Virginia, from June 26, 1862; received in September, 1862, thirty enlisted men from the 46th N. Y. Volunteers; served in the 1st Division, 9th Corps, from September, 1862; in the 2d Division, 9th Corps, from October, 1862; in the 3d Division, 9th Corps, from December, 1862; in the 2d Division, 9th Corps, from February, 1863; in the 1st Division, 9th Corps, from September, 1863; in the artillery, 3d Division, 9th Corps, from April, 1864; and in the Artillery Brigade, 9th Corps, Army of the Potomac, from July, 1864, At the expiration of its term of service, the men entitled thereto were discharged, and the battery continued in service until June 21, 1865, when, commanded by Capt. Jacob Roemer, it was mustered out and honorably discharged at Hart's island, New York harbor, having, during its service, lost by death, killed in action, 4 enlisted men; of wounds received in action, 3 enlisted men; of disease and other causes, 15 enlisted men; total, 22.
The following is taken from The Union army: a history of military affairs in the loyal states, 1861-65 -- records of the regiments in the Union army -- cyclopedia of battles -- memoirs of commanders and soldiers, Volume II: New York, Maryland, West Virginia and Ohio. Madison, WI: Federal Pub. Co., 1908.
Thirty-fourth Independent Battery.—Capts., Thomas L. Robinson, Jacob L. Roemer. This organization, known as the "Hamilton" or "Flushing battery," was recruited at Flushing, L. I., by Capt. Robinson, the artillery company of the 15th militia forming its nucleus. It was mustered into the U. S. service for three years on Nov. 28, 1861, and was assigned to the 2nd N. Y. artillery as Co. L on Dec. 5. It served as a light battery, detached from its regiment, being permanently detached and designated the 34th battery on Nov. 19, 1863. Capt. Robinson was discharged on March 4, 1862, and was succeeded by Capt. Roemer. A majority of the original members reenlisted as veterans and the battery was continued in service as a veteran organization. It left the state on Dec. 2, 1861; was stationed at Washington until the following summer; was in action for the first time at Cedar mountain, with the 2nd brigade, 3d division, 2nd corps; took part in Gen. Pope's campaign and the battles about Manassas; and was then assigned to the 9th corps, with which it served for the remainder of its term. It was active at Jefferson, Sulphur Springs, Fayetteville and Fredericksburg, and in 1863 accompanied its corps to Mississippi, where it took part in the siege of Vicksburg, and was then engaged at Jackson, Miss., Blue Springs, Lenoir Station, Campbell Station, Siege of Knoxville and Rutledge, Tenn. Returning to Virginia in the spring of 1864, it took part in Grant's Wilderness campaign, including the battles of the Wilderness, Spottsylvania, North Anna, the Totopotomy, Cold Harbor and the assault on the works of Petersburg in June, where it lost 7 men wounded. It was engaged without loss at the mine explosion and at Poplar Grove Church, but met with a loss of 3 killed and 3 wounded at Hatcher's run in Oct., 1864. At Fort Stedman in March, 1865, its casualties were 5 killed and wounded. From June 16, 1864, to April 2, 1865, it was before Petersburg, where it sustained a loss of 13 wounded. The battery was mustered out at Hart's island, N. Y. harbor, June 21, 1865, having lost 7 killed and mortally wounded, and 15 men died of disease and other causes; total, 22.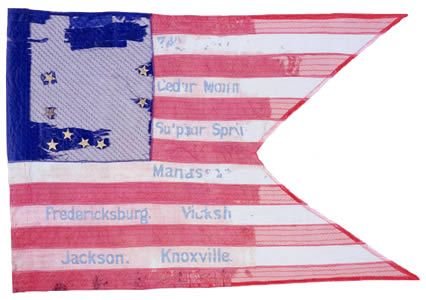 34th Independent Battery, NY Volunteers | Guidon | Civil War
The 34th Independent Battery, NY Volunteers received this silk, swallowtail guidon from Miss Celia Roe on April 3, 1864, at Annapolis, Maryland.…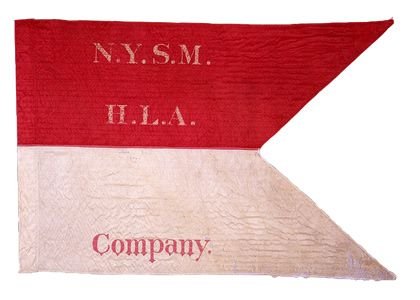 34th Independent Battery, NY Volunteers | Guidon | Civil War
Captain Thomas Robinson, commander of the "Hamilton Light Artillery" company from the 15th New York State Militia, received authority in July 1861 to…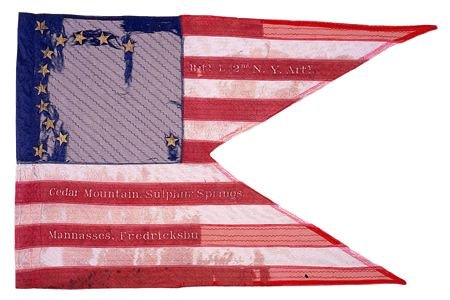 34th Independent Battery, NY Volunteers | Guidon | Civil War
Approximately 50% of this silk guidon is missing including a large part of the canton and portions of the battle honors commemorating the battery's…
NYSMM Online Resources
Battles and Casualties from Phisterer (pdf)
Battles and Casualties from Phisterer (spreadsheet)
Muster Roll (no muster roll for this unit)
Inquiries Relating to the Formation and Movements [of the 34th Battery]
Report of Jacob Roemer, Fort Friend, Before Petersburg, VA, 11 January 1865
Recapitulation of Hamilton Light Artillery Battery L 2nd N.Y. V. 34th N.Y. Indpt. V. V. Battery by Jacob Roemer, Brevet Major, 24 June 1865
Financial Report of Henry Clement of money received for the benefit of Captain Roemer's Battery, 23 February 1866
Letter from Jacob Roemer to Chief of Military Records, Lockwood Doty, 30 June 1866
Letters from Jacob Roemer to his daughter Katynn (Kitty)
Letters and sketches (in German), by Jacob Roemer, commander, 34th Ind. Battery by Jacob Roemer, commander, 34th Ind. Battery